You can open exercise windows and terminate grants for more than one grant/grantholders
n.b. You can find a step by step interactive product demo tour here.
Before creating an exercise window you will need to:
a) Add the relevant exercise notice template on Capdesk. Please note your account will also need to be live to create an exercise window on Capdesk.
b) Select the default signatory (the person who will publish the exercises on behalf of the company).
Using any of the online signing features (share certificates, option grant signing, etc) on Capdesk will, by default, use our DocuSign account and this will cost you £2.50 per document to cover the cost of signing. However, we allow you to log in to your own DocuSign account so there is no additional cost for you.
If you want to open an exercise window and terminate multiple option/warrant grants at the same time, you will need to go to Equity Awards -> Options (or Warrants) -> Online Exercises and click on Get Started.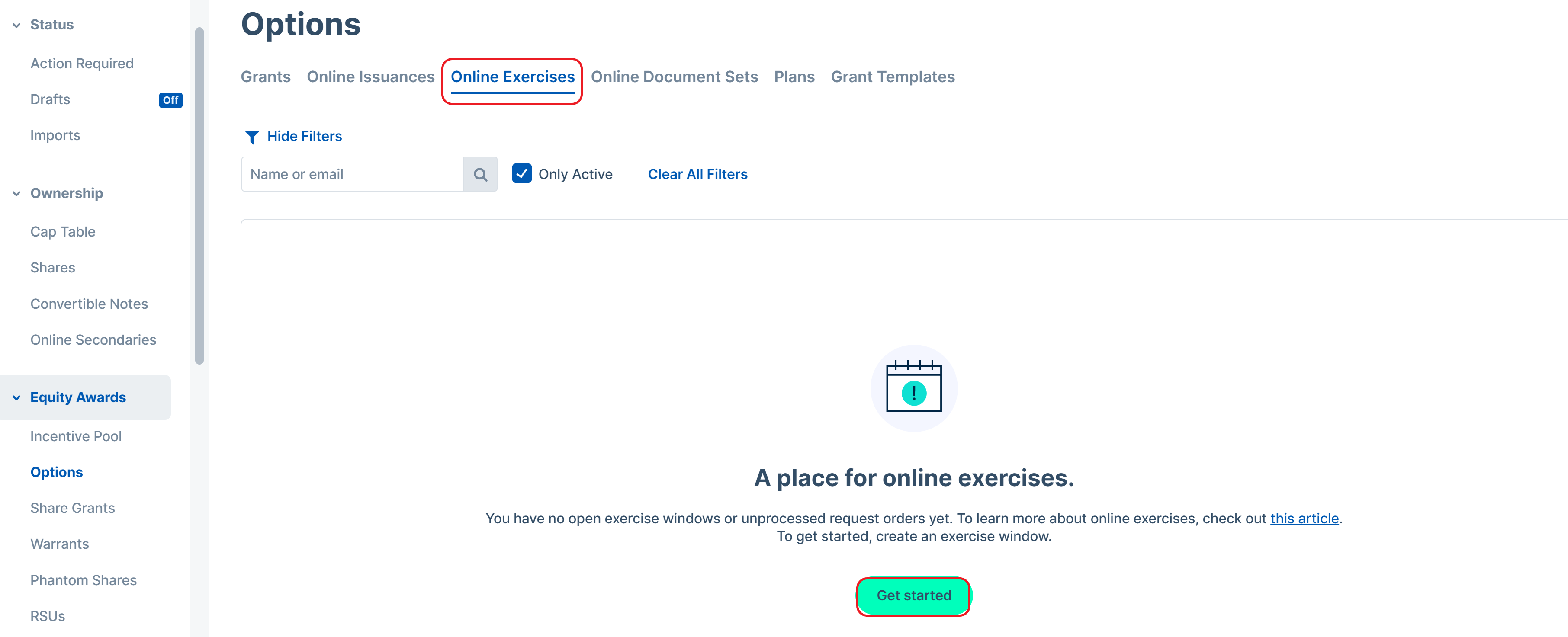 You will then need to select the action you want to perform:
Create and open an exercise window
Terminate grants and open an exercise window
Mark requests as paid (this action is only available once there is at least one exercise in progress)
Publish paid exercises (this action is only available once there is at least one exercise in progress)
You can find an overview of what each of these actions means in this support article.
Once you have selected an action, you will need to choose the relevant stakeholders for which you wish to perform it.
You can select all the stakeholders (the tickbox next to 'Grantholder' or you can also select a part of them by using the search box and ticking as necessary.
You can choose as many stakeholders at a time, however, please note, for the first two actions - 'opening an exercise window' and 'terminating a grant by opening an exercises window' - the exercise window will have to be the same for all selected.
Input the relevant details for the exercise window, then select Start termination or Open Exercise Window as applicable.
You can find a detailed explanation for all the relevant fields related to the exercise window and grant termination below:
An email notification will automatically be sent to the selected stakeholders to log in to their Capdesk account and submit their exercise. You can find the exercise process for a stakeholder here.
Please note, that the grants will only appear on the Online Exercises page once the grantholder has accepted the exercise request.
Once the grantholders have submitted their exercise, signed the relevant documents and paid, you will be able to bulk Mark as paid or Publish, by clicking on the Take action green button on the right-hand side as below.
By clicking the Take action button you can also open new exercise windows as you will be redirected to the action page as below.