Detailing which information you require in order to verify your identity, the settings that you need to enable on your account and how you will interact with Shieldpay.
2. How to complete the verification process
a. Enabling two-factor authentication
Background information

Performing financial transactions online such as exercises, sales and purchases, requires getting your identity verified. Re-verification is required every 12 months or when data changes. Your data is processed by KYC and payment experts Shieldpay.
These are the countries of residence, for which we currently support verification:
BE Belgium
CH Switzerland
DE Germany
DK Denmark
FR France
GB United Kingdom
IE Ireland
IN India
NO Norway
SE Sweden
SG Singapore
US United States


Before starting the verification process, make sure that you have the following details available:
First and last name
Current legal address
Mobile number
Date of birth
Gender
IBAN or SWIFT/BAC
You may be required to provide further information depending on Shieldpay.

In this article, we will be covering how to verify your identity so that as a stakeholder, you can complete Capdesk's online features:

1. Exercising your options
2. Selling shares in a secondary transaction
3. Buying shares in a secondary transaction


How to complete the verification process
This article will illustrate how to verify your identity (KYC) from the viewpoint of completing an online exercise.
Note that you will be asked to verify your identity at the start point of a transaction i.e when you look to exercise/sell/buy shares on Capdesk.
Firstly, sign up to Capdesk or log into your Capdesk account.

Access your portfolio, in the 'Current Holdings' section, find the grant that you would like to exercise. Click the action button (...) far-right and then click 'Exercise Options Grants'.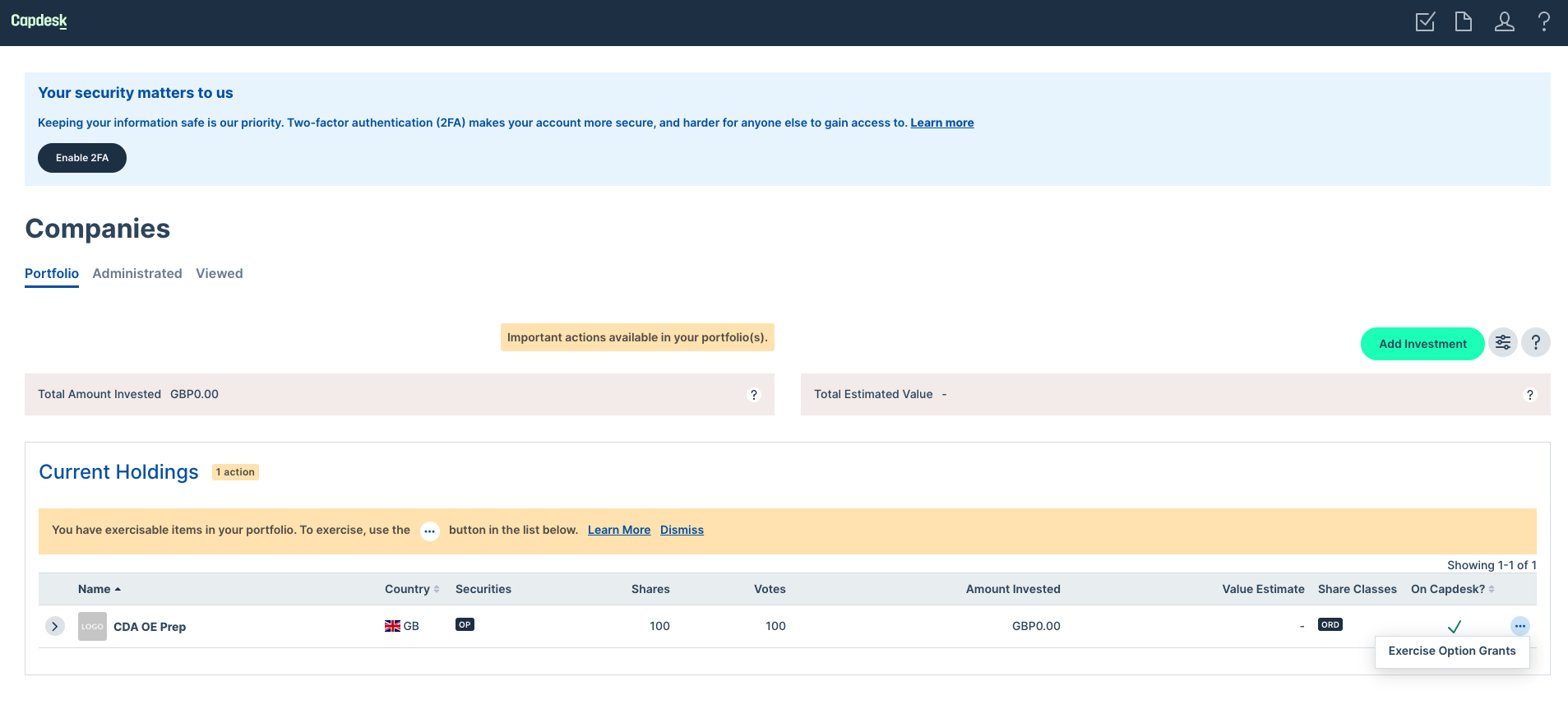 If your identity has already been verified, you are able to proceed with the transaction. If not, the following message will appear.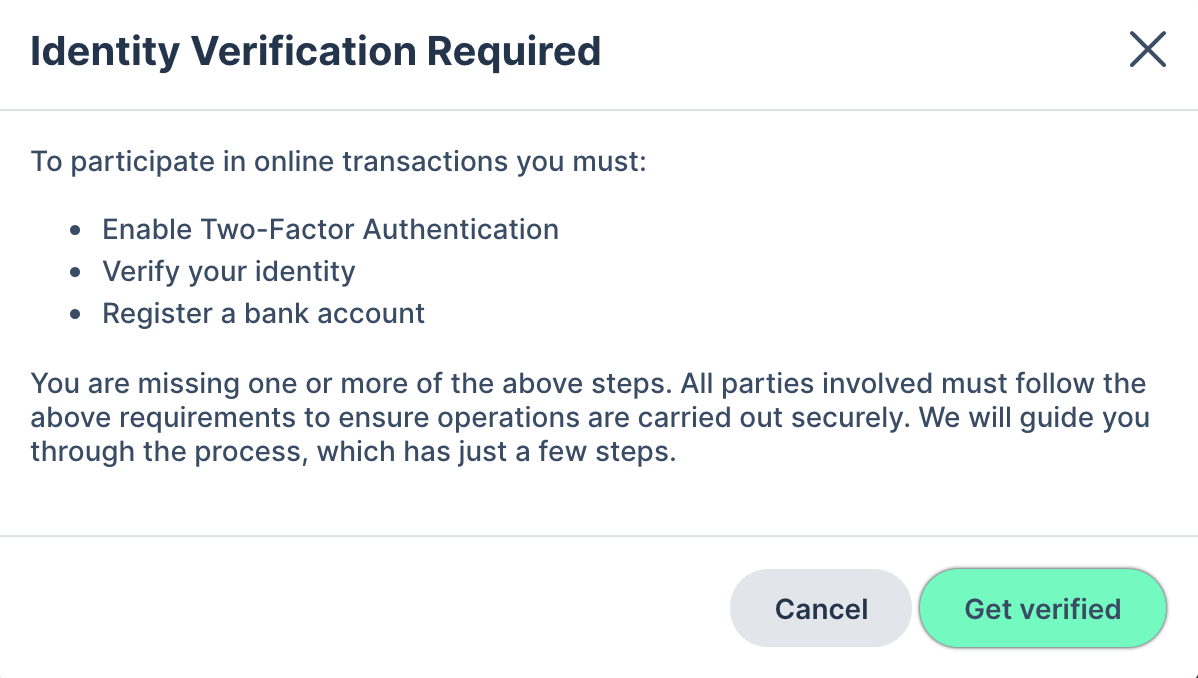 Click 'Get Verified' to be directed to the page below, this is where you enable two-factor authentication to add an extra layer of protection to your Capdesk account.


a. Enabling two-factor authentication

Select the dial code and enter your phone number. You will be prompted that you are about to receive a 6-digit SMS code to the phone number in order to enable two-factor authentication.
When entering the phone number, take into account the dial code i.e if the dial code reads as +44, a mobile number should start with 7, not 07.

Shortly after clicking 'Send me the code', you will receive the SMS code. Once received, enter the code in the required field and click the green 'Verify Code' button.
You will receive a new code every time that you log into your Capdesk account unless you turn off this setting.
If you do not receive the code, click the 'Resend Code' button and if you experience any further problems, contact support.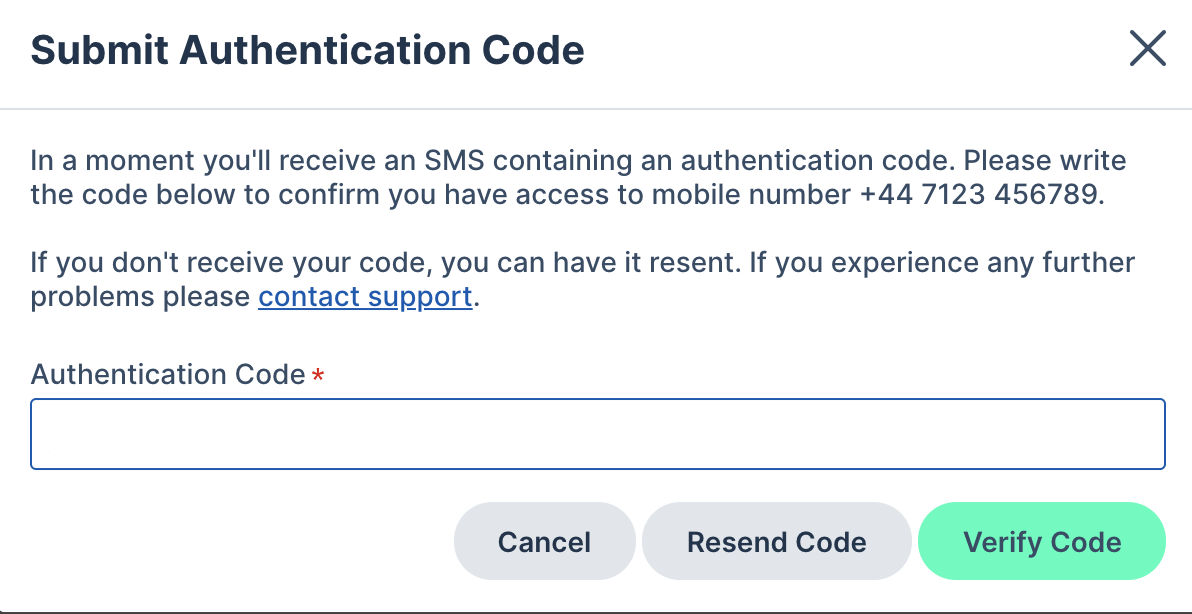 b. Identity verification
Once two-factor authentication has been enabled you will be asked to verify your identity.
Enter the relevant details of the fields, making sure that the mandatory fields denoted by an asterisk, and click 'Save and Continue' once completed.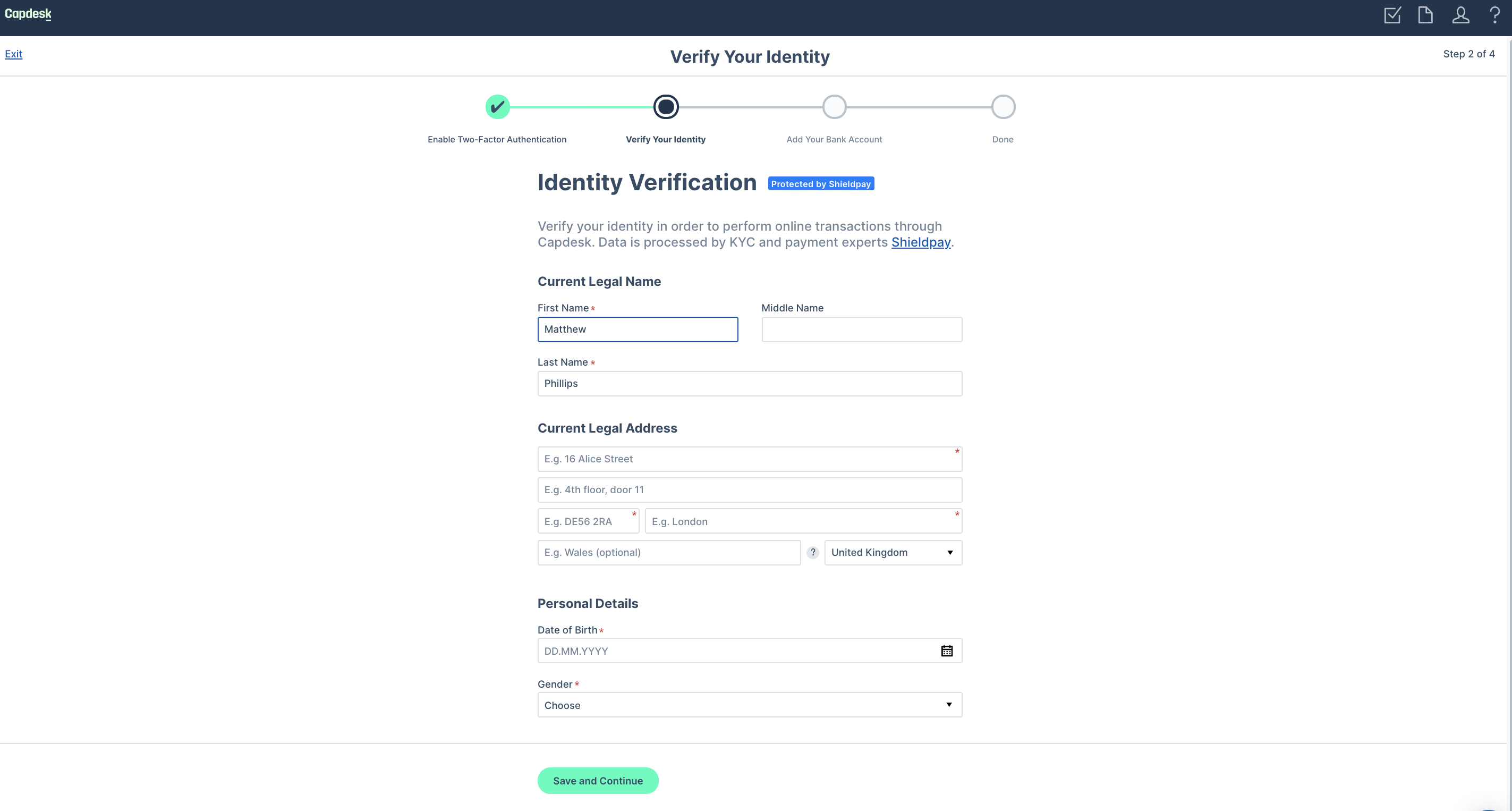 If you completed the process successfully, you can proceed to part c.
If your identity verification is pending, your page will be directed to the screenshot below and you will be contacted by Shieldpay, through email. The first email you will receive will be a request to upload an identity document (passport or driving license) and you will need to take a short video to prove that no one is impersonating you. A link will be provided in the email and you can follow the steps that appear on screen.
If Shieldpay requires further verification, they will send a second email asking for proof of address, this will need to be a recent bank statement or utility bill (less than 3 months old).
Shieldpay will confirm by email that no further documentation is required and that your identity is verified.

In the case that your identity verification has failed, an error message will appear on your screen detailing the issue. Reasons for failed identity verification can be:
Incorrect information due to misspelling.
Incorrect address format.
Under the age of 18.
If you come across any of these messages, you can reach out to us by submitting a support ticket.
c. Add your bank account
Add your bank account so that funds can be transferred for a transaction.
Select your bank account's country of origin and enter your IBAN or SWIFT/BIC. Then, choose the currency and enter the account holder name.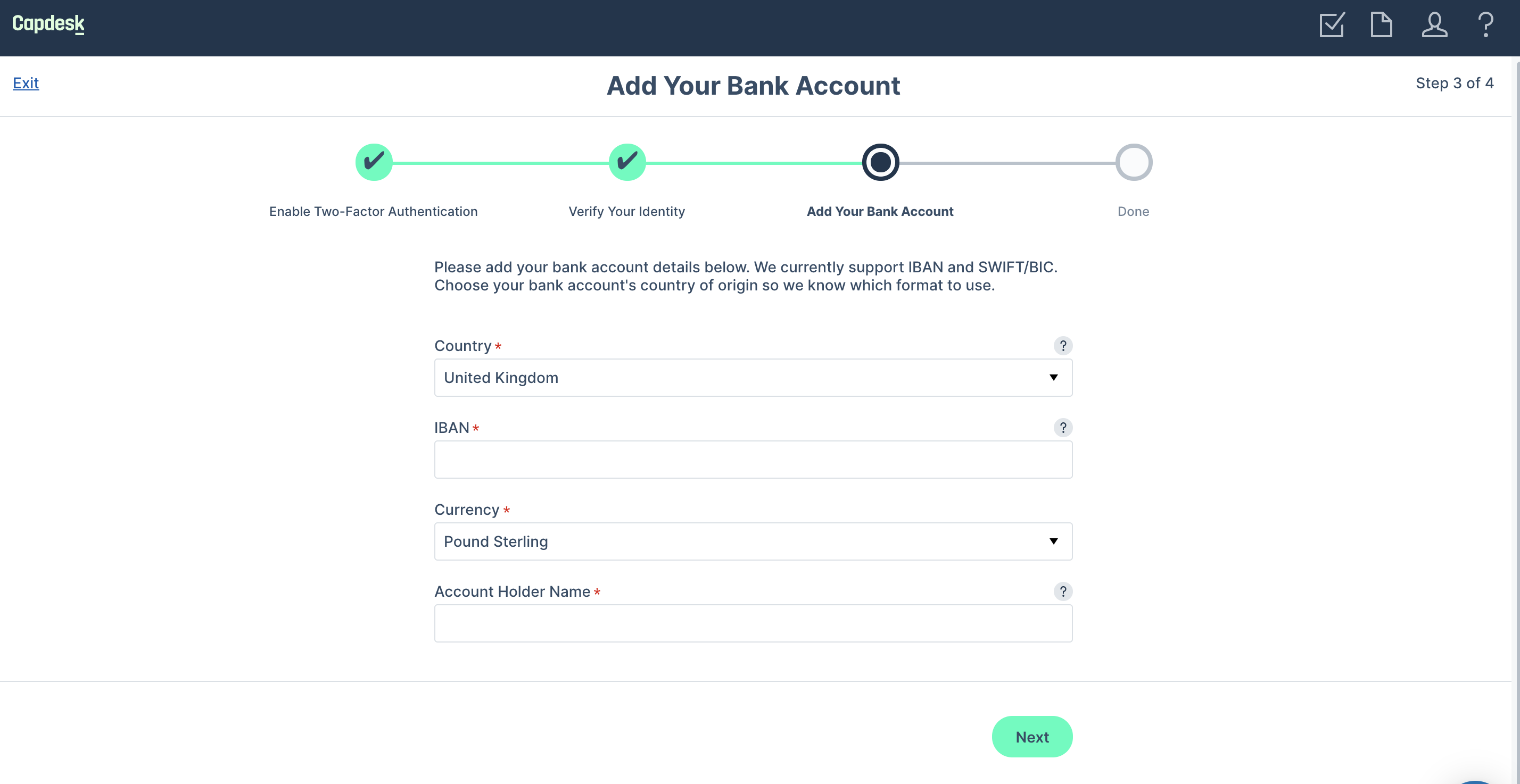 Once completed, click the green 'Next' button and you will see that the verification process has been completed.

By clicking the green 'Finish' button, you will be directed to complete your transaction i.e exercise your options.