Associate your DocuSign account for online signing tasks
Using any online signing features (share certificates, option grant signing etc) on Capdesk will, by default, use our DocuSign account. The first 10 documents are free and after this, there is a cost to you of £2.50 per document to cover the price of signing.
However, you can log in to your own DocuSign account through Capdesk so there is no additional cost for you.
First, navigate to the 'Settings and Add-ons' tab under the 'Settings' menu on the left hand side of the platform. Once there, scroll down and click the 'Signing Settings' drop down option.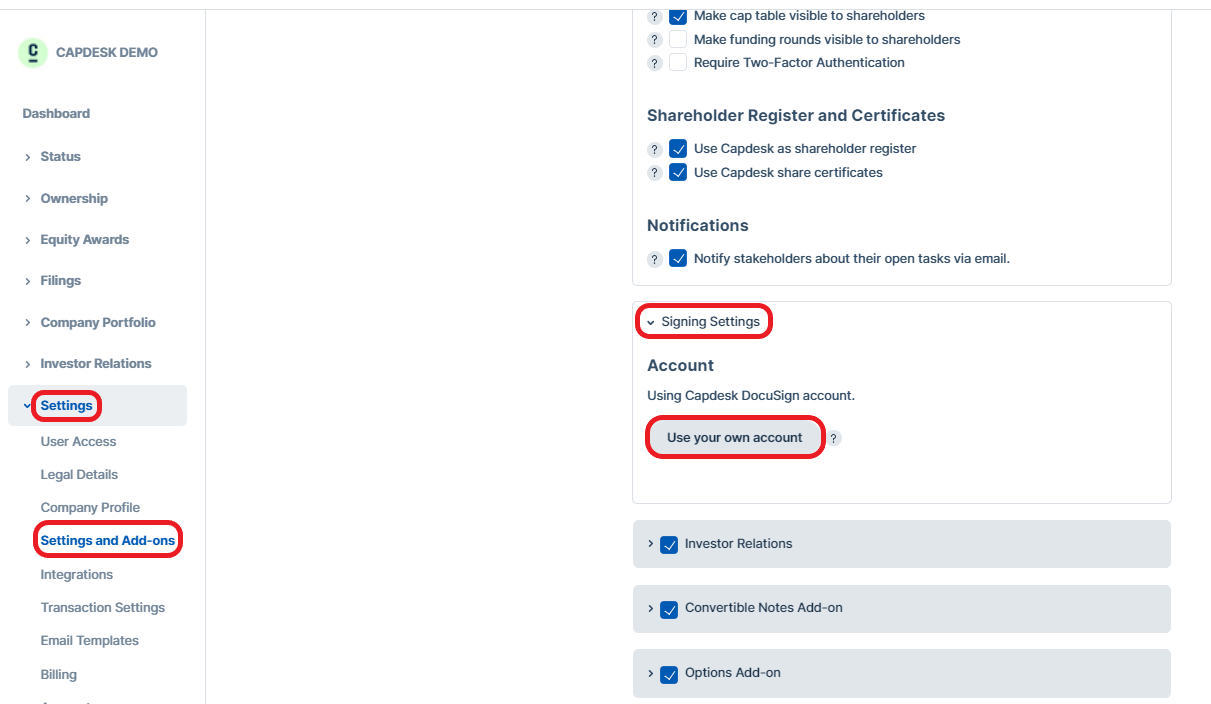 You will then see the option to 'Use your own account' which you can select to sync your DocuSign account with Capdesk. You will be asked to log in to DocuSign and grant Capdesk access to your DocuSign user to send documents for signing. Please log in with the DocuSign user you would like us to use.
Please note that we will use the default DocuSign account associated with your DocuSign user in case your DocuSign user has access to multiple DocuSign accounts.

After entering your email and password, you'll be logged in with your own DocuSign account and there will not be any additional charges for using any of the features that requires signature(s).
Please be aware if you only have a free subscription to DocuSign this will not work when associated to Capdesk and signing tasks will fail. You must have a paid for DocuSign account in order to use this feature correctly.