This article explains how you can generate share certificates for your shareholders.
Please also feel free to read our blog post on generating share certificates here.
n.b. You can find a step by step interactive product demo tour here.
When you issue shares, you will need to issue a share certificate to your shareholder, we are able to help you generate and sign this on Capdesk.
We generate a certificate per shareholder per share class i.e. if they have invested in multiple rounds, we will consolidate the issuances into one certificate per share class.
We do not generate share certificates per transaction.
To generate share certificates, you will need to enable this feature in the 'Settings and Add-ons' page (under Settings). Then in the Basic Settings section, you should see Shareholder Register and Certificates.
You will need to tick the checkbox "Use Capdesk as shareholder register" before you can tick the checkbox "Use Capdesk share certificates".
Once you have ticked both checkboxes, please click "Save" (bottom of the page).
You will now see Certificates page in the Shares page (under Ownership).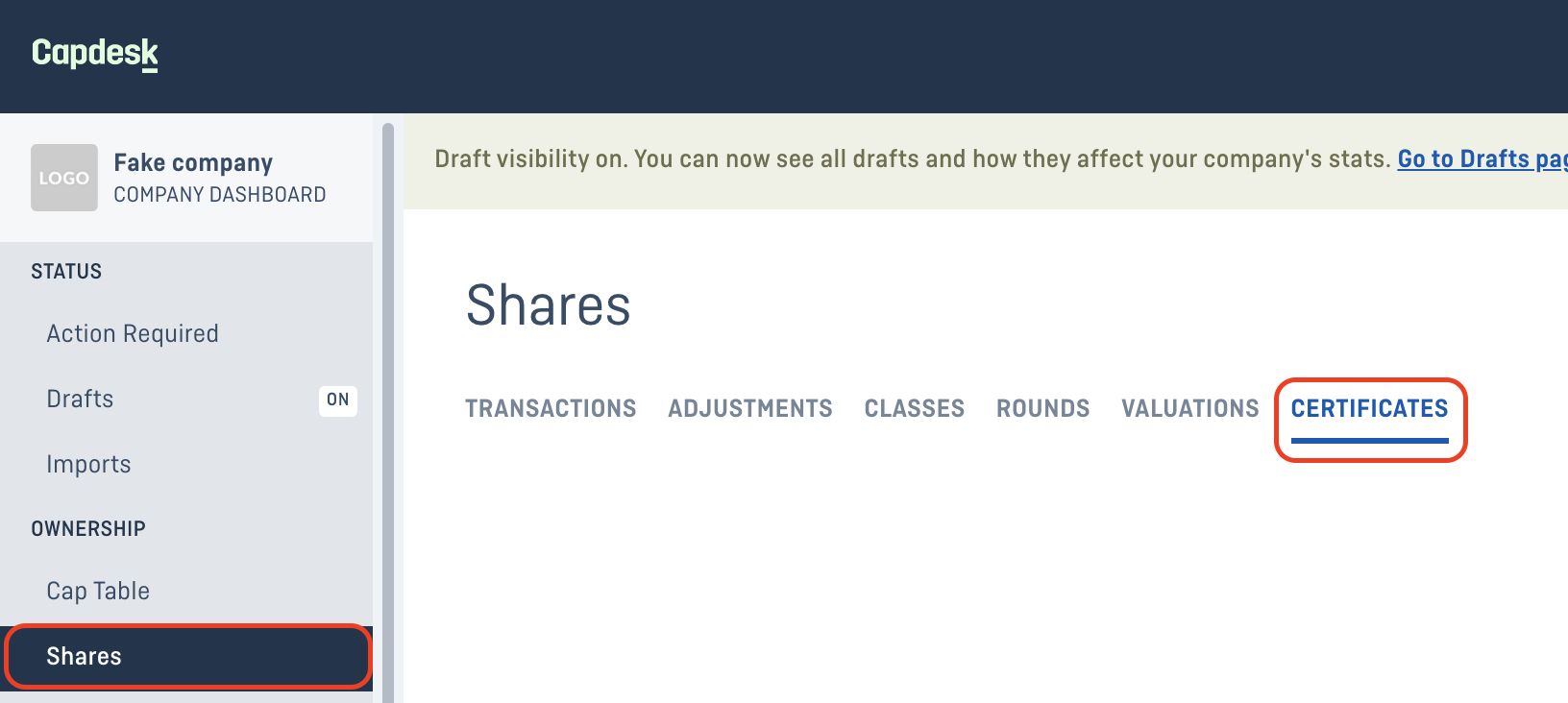 Before share certificates are generated, you will need to input some details, click "Generate":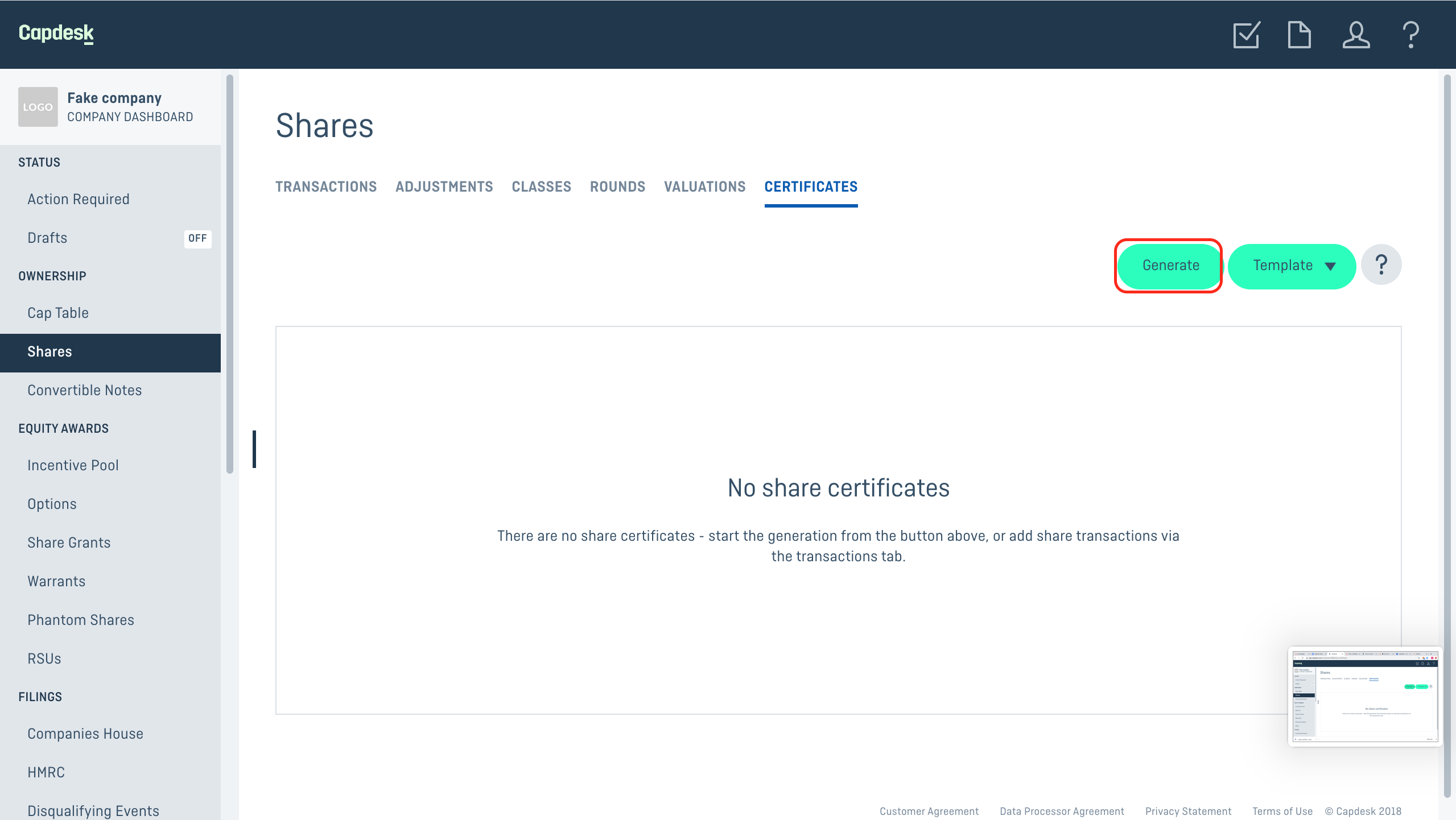 Clicking on the generate button will lead you to the following page: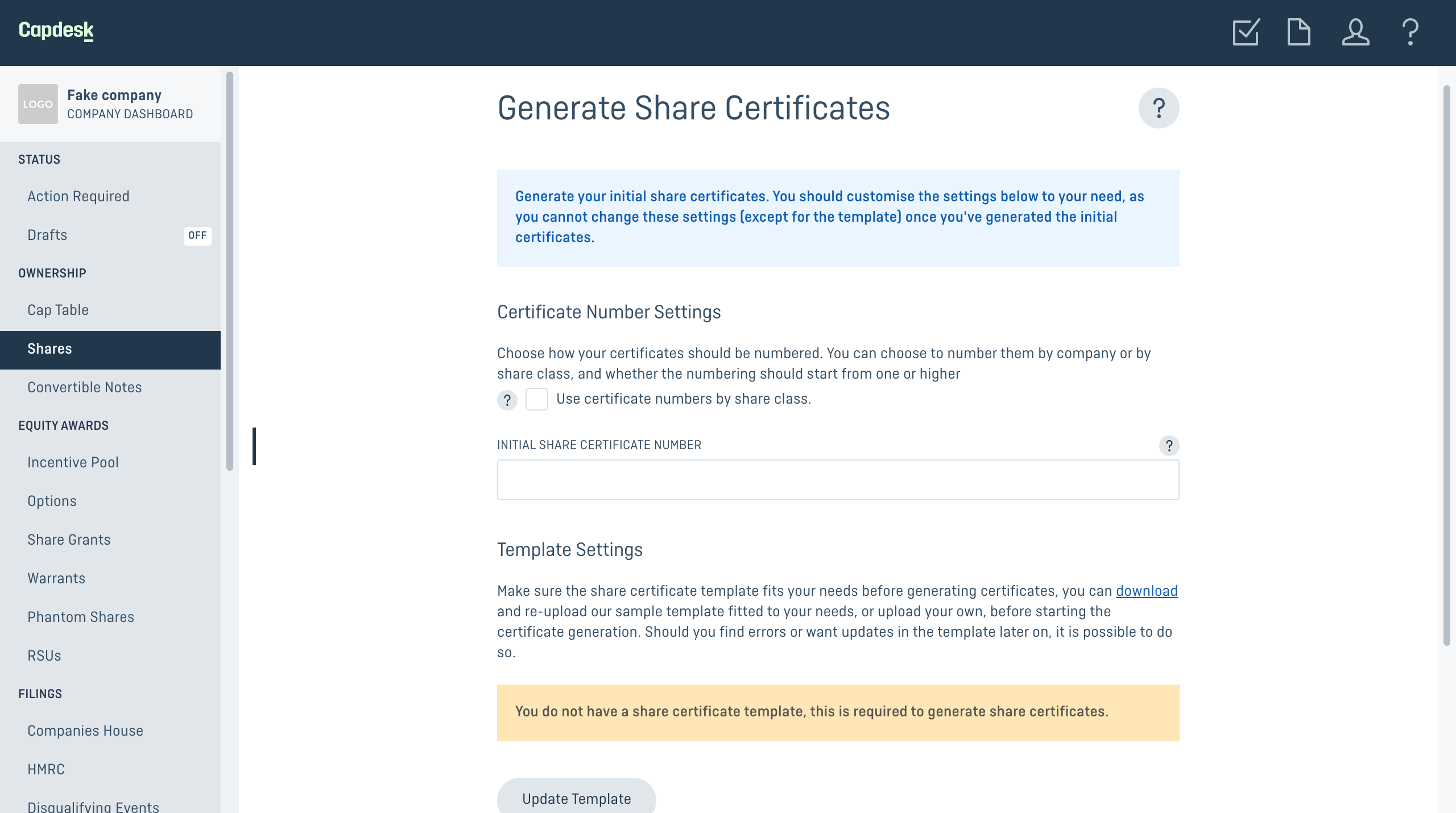 From this, you can choose how the share certificate number works. Without ticking checkbox "Use certificate numbers by share class.", this means that the share certificate number is unique across all share classes. So you will only need to enter the share certificate number you want to start generating from.

Ticking checkbox "Use certificate numbers by share class.", will then list out all of your share classes and you will need to enter what share certificate number you want to start generating from for each share class i.e. you can enter 1 for all share classes if you wanted to.


Next, you are required to upload a share certificate template. Click "Upload Template".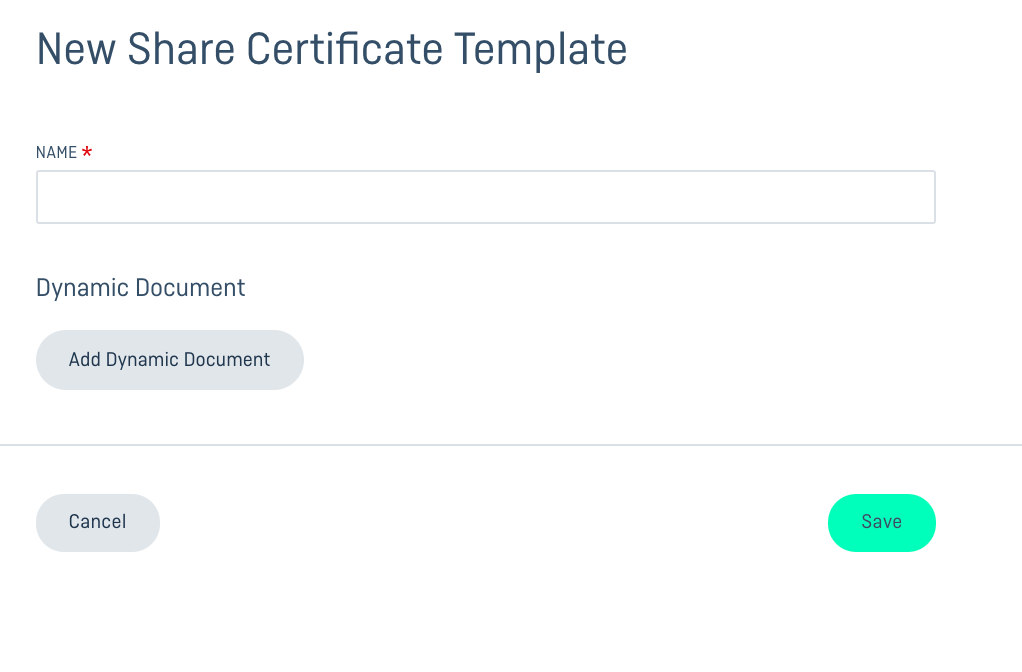 Go to "Add Dynamic Document" to upload the share certificate template: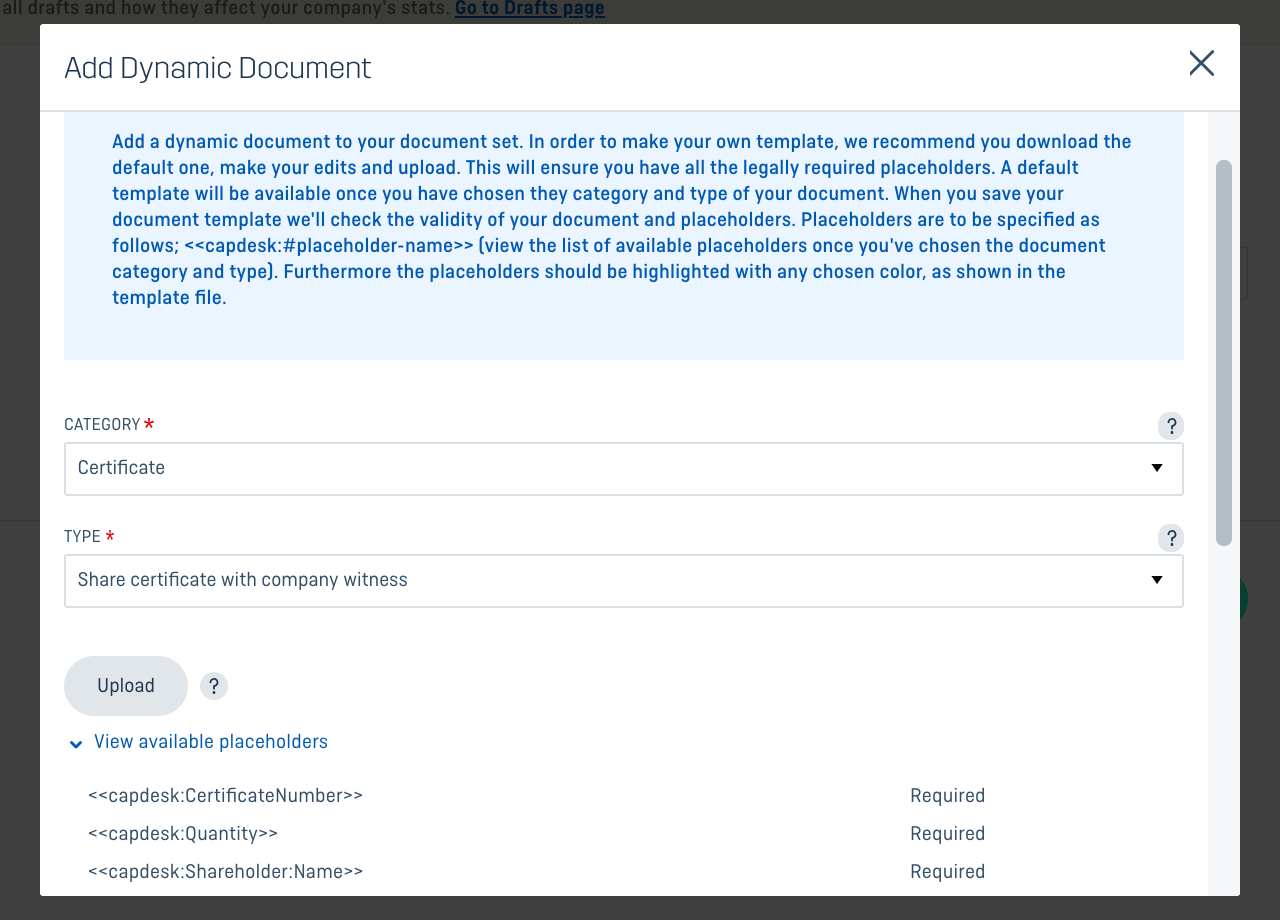 Your share certificate template will need Capdesk placeholders (you can see them under "View available placeholders") so the details of the share issuance are automatically filled in the share certificate. You then "Upload" and "Save".


After you have filled out all the details, click on "Generate".
Capdesk has generated share certificates for all issuances recorded (this includes historical share issuances) on Capdesk.
You can see the generated share certificates by clicking on "View", highlighted below.

Then if you click on the share certificate pdf, you will see the generated share certificate below:
There are different type of statuses for the share issuance:
You can have:
Draft: This is when the issuance is recorded as drafts on Capdesk
Registered: This is when the issuance is published on Capdesk
In Signing: This is when the share certificate is sent for company signing
Signed: This is when the share certificate is signed (either signing executed on Capdesk or have uploaded a signed share certificate document) and the shareholder will be able to view the share certificate
Cancelled: This is where previously signed certificates have later been replaced/updated
Please note, for the status - Draft, Registered and In Signing, the shareholder will not see the share certificate. They will only see it when it is signed (the status will be Signed or Cancelled).
When the issuance is 'Registered', you can:
We understand that you might have a certificate number that does not match Capdesks' autogenerated one or you have a signed share certificate for the issuance already, so we allow for changing the certificate number and uploading the signed document.
If you click on "Change Certificate Number":
You can choose a certificate number for the share certificate. The certificate number must be unique, and not already in use. Then click on the "Save" button.
To upload an already signed share certificate, click on "Upload Signed Document", upload the relevant share certificate and click on Save.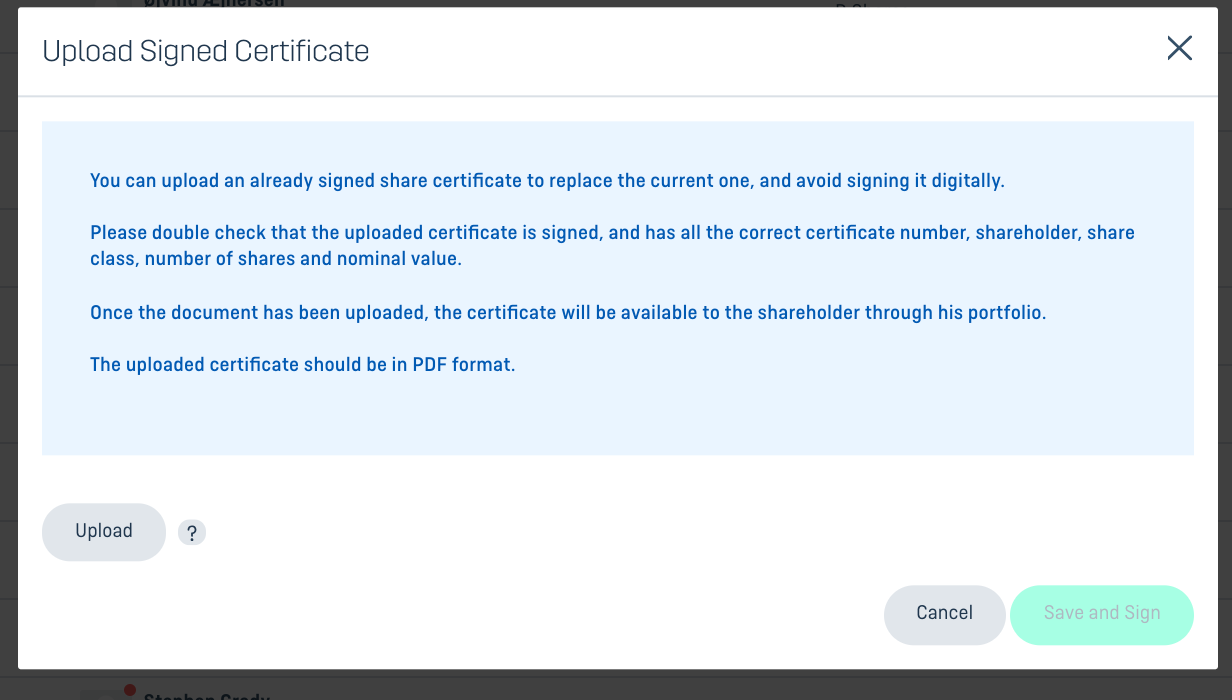 The shareholder will now be able to see their share certificate.
If you want to execute the signing of share certificate on Capdesk, please refer to this help article here.