If you have been selected to act as a witness for the signing of a document through Capdesk, you will have to electronically sign the document at the same time as the person who chose you.
Here is how to do it.
n.b. You can find a step by step interactive product demo tour here.
First, you'll receive an email notification once you have been selected as a witness. Please note that in order to sign, both you and the person who invited you will have to be simultaneously logged in to Capdesk.
If you do not have a Capdesk account, you will be prompted to create one by clicking on the green Sign up to use Capdesk link sent in the email.
Alternatively, if you already have a Capdesk account, you will only be required to Log In.
You will now be automatically directed to the 'Tasks' tab of your Capdesk account. Here you will be able to see that a new task, 'Witness Signature' has been added to your list. The state of your task will be 'Awaiting Witnessing Signature', which means it is time for you to sign the option agreement before any other actions can be taken.
To sign the agreement, click the blue 'Witness and Sign' link.
If your information is not already registered on Capdesk, you will be asked to fill out some basic information about yourself before you are able to sign.
Please note, all the fields with a red asterisk are mandatory.
Once you click Save, you will be shown the following screen which is informing you, the person who has added you as a witness (the Signatory) will now be prompted with the document to be signed.
Once the Signatory has completed their signature, the document will be prompted on your account to be signed as well.

When you are ready to sign it, click 'Start' on your left.
This will automatically direct you to the last page of the agreement, where you are required to sign. The field where your signature is required will be indicated by the following icon:
To add your electronic signature, click on the icon. A pop-up screen will appear, presenting you with your virtual signature (example shown below) and in order to sign the document, simply click on Adopt and Sign.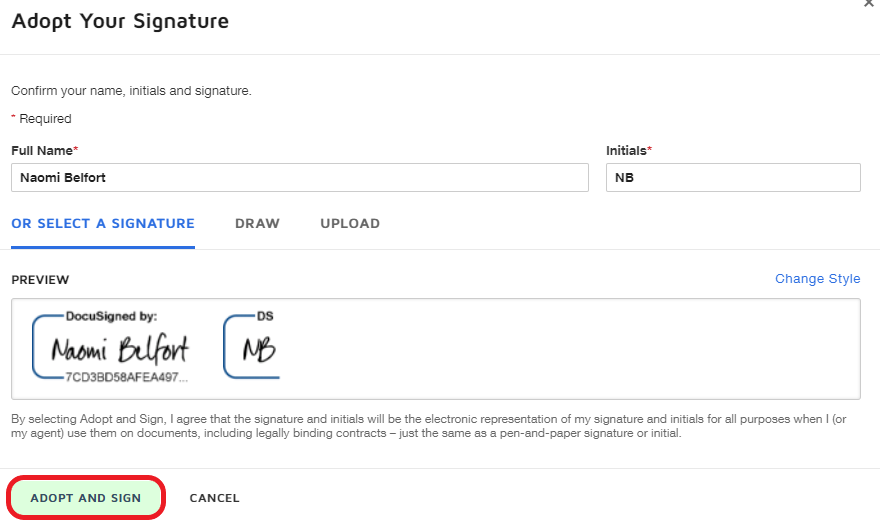 Now your electronic signature should appear in the dedicated signature field.
When you are ready to finalise the process, click the green 'Finish' button at the top of your screen.
Now, the signing task under your 'Tasks' tab should be marked as 'Completed'.

You can now log off your account.