This article covers how to record convertible notes in bulk to Capdesk using an import file. You can find an article on manually recording convertible notes on our support site.
This article will help to explain how to register and bulk issue convertible notes on Capdesk.
Before you can get started, you will need to add the Convertible Notes add-on enabled (if you have not already done so).
To enable the add-on, go on your company's profile, go to "Settings and add-ons" and ensure that "Convertible notes Addon" is selected. If it isn't, please click the box by "Convertible notes Addon" and select save to enable convertible notes.

After you have enabled the add-on, you will need see "Convertible Notes" page appear under "Ownership".
Once you open the convertible notes tab, you will be taken to the following page, for a bulk (import) issuance of notes you will need to click the "Import Notes" button, circled below:
After clicking the "Import Notes" button, if you have already prepared a CSV (comma separated values) file you can import it here. If you have not prepared a CSV yet, you can do so by selecting "Download Sample CSV File":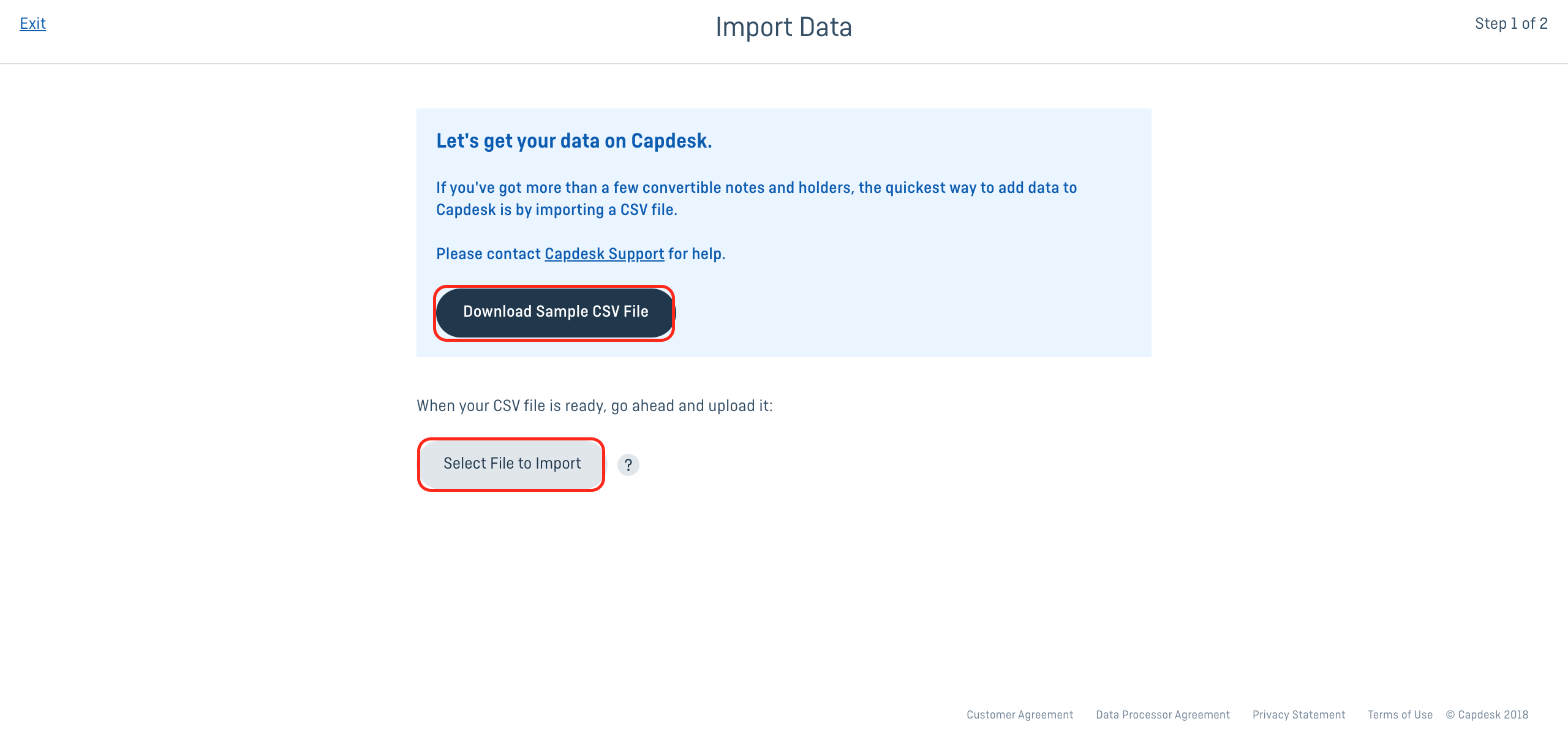 Preparing an import file:
Once you've downloaded the spreadsheet, it is populated with examples. You can use these as a guidance of how to record convertible notes.
N.B. Please ensure you delete all example data before importing the file.
Note: The order of the columns in the template may differ to the screenshots shown below. This does not matter for importing but you can drag columns around to match the screenshots if you want.
How to fill out the import file:
This section defines each of the headings and shows which fields are mandatory and non mandatory.
"id" (mandatory) - For every convertible note, there needs to be a unique number filled in the "id" column (it can be as simple as 1,2,3 etc)
"debt_id" (non-mandatory) - For every transaction relating to a convertible grant (i.e conversion), you will need to fill the "grant_id" column with the convertible note id you have inputted in the "id" column; shown in the image above.
"type" (mandatory) - Denotes what type of convertible note is being issued. We support 'standard', 'safe', 'ASA' and 'other.
- Standard and other convertible notes are debt which can be repaid or converted to equity depending on terms in the agreement. With standard notes there is an interest rate and possible maturity date.

- SAFE's are a simpler and standardised version of convertible notes developed by Y Combinator. SAFE's are not really debt and there is no interest nor maturity date attached to them.

- Advanced Subscription Agreements (ASA's) are essentially payments for equity in advance and, e.g. not debt, which makes them suitable for UK SEIS/EIS-investments in certain cases. Please contact Capdesk support or your legal advisor before choosing a convertible type.
"share_class" (mandatory) - the share class which the note might be converted into.
"date" (mandatory) - the date when the convertible note was issued.
"matures" (non-mandatory) - the date when the debt is due i.e. repaid or converted.
"principal" (mandatory) - the convertible loan note amount.
"qualifying_financing" (non-mandatory) - if specified, this is the amount of a future round which can and will trigger conversion of the note according to terms in the agreement.
"interest" (non-mandatory) - rate of interest, please pick a number between 1-100
"compounding_period" (non-mandatory) - if interest is filled and it is compounding, a period must be specified to determine when interest is accrued to the total. More frequent periods result in higher interest. Compounding periods are a measure of when the interest compounds and therefore can be; 'daily', 'monthly', 'quarterly', 'semi-annually', or 'annually'.
"conversion_price" - The fixed price of the shares which note holders can convert their notes into. (It will either be a fixed price conversion or a conversion discount %)
"conversion_price_discount" - discount on the share price of the future financing round which triggers conversion of the note. Please enter a number between 0 and 100.
"valuation_cap" (non-mandatory) - a valuation cap results in an upper limit to the conversion price. This is relevant when a discount on a future share price has been agreed. If 'valuation cap' < 'valuation of the future round' x 'conversion price discount', valuation cap should be used for determining conversion price.
"Note" (non-mandatory) - any notes you want included and available for noteholder to see.
The next few fields have a few mandatory requirements for the import file:
"first_name" (mandatory if noteholder is a person) - first name of noteholder
"last_name" (mandatory if noteholder is a person) - last name of noteholder
"email" (mandatory) - email of noteholder
"registration_number" (mandatory if noteholder is a company) - registration number for company with note
"company_name" (mandatory if noteholder is a company) - name of noteholding company
"country" (mandatory) - country of residence for the noteholder. Enter in ISO Alpha-2 characters (you can find full list of countries here)
"address1" (non-mandatory) - first line of the address of residence for noteholder
"city" (non-mandatory) - city of residence of the noteholder
"reason" - for a transaction that includes repayment, conversions and other
"amount" (mandatory) - amount of shares being converted/repayment
"comment" (non-mandatory) - usually explaining the "other" in reason
"share_price" (mandatory) - price at which shares are bought for
"share_quantity" (mandatory) - quantity of shares bought.
"pre_money_valuation" -A company's valuation before an investment or financing.
Recording Secondary Transactions:
Secondary transactions may include a note conversion or a note repayment and you can record this directly on the import file itself. The important thing to note when doing this is to input the relevant id into debt_id (i.e the person who has had a conversion). The next step would be to input the date for conversion/repayment, under reason input conversion/repayment/other.
The final step would be to input the relevant quantities for share_price, and share_quantity, you can see an example below:
Once you have filled all these fields in accordingly, remember to save your file as a CSV (comma separated value). At this point, you can import the file, if all fields are correctly filled the details should then be on Capdesk.
However, if you do receive an error message that looks like this:
Please click "download processed CSV" and open, the file should look something like this: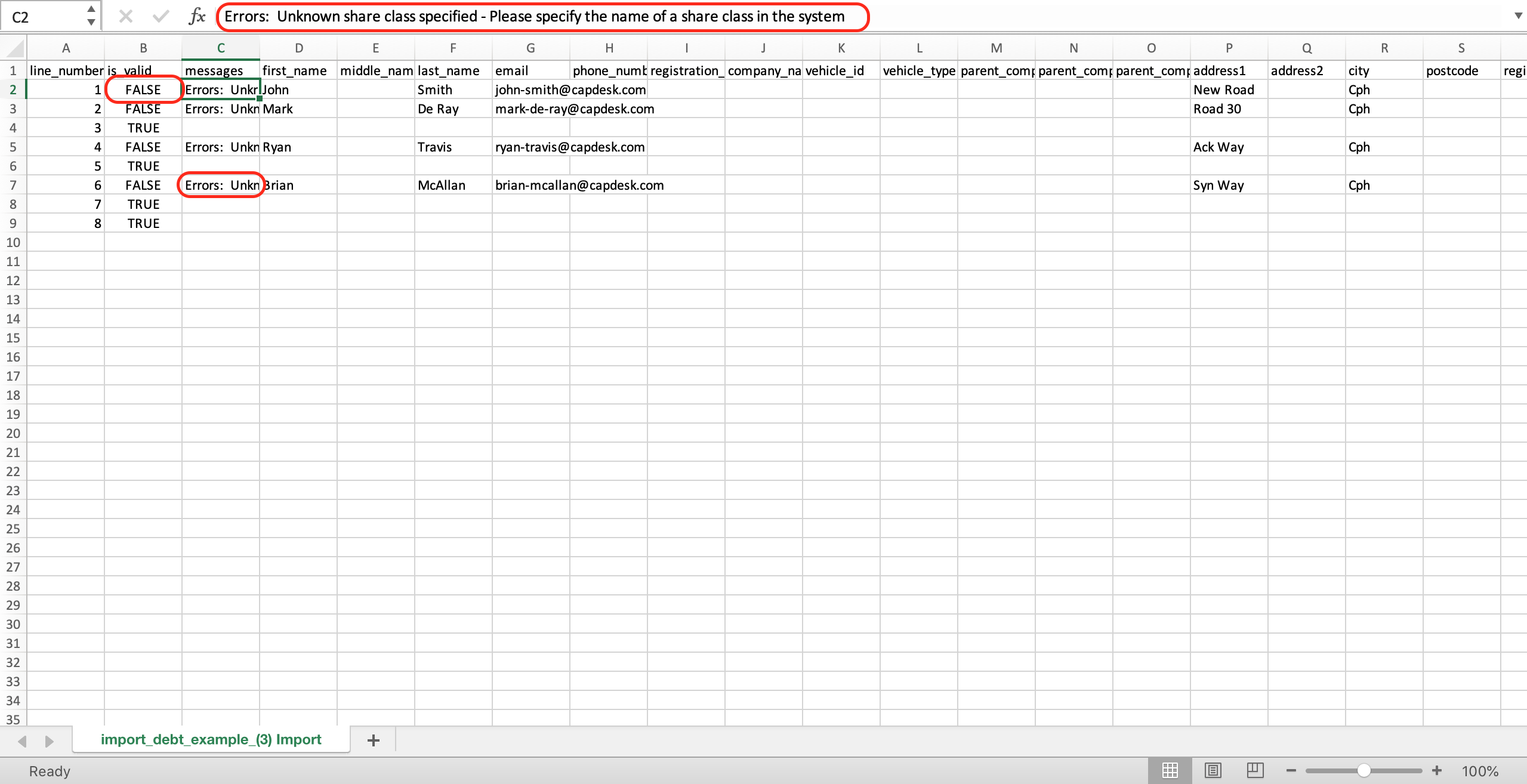 As you can see in this case, there is an unknown share class (in this case, we would add the share class on Capdesk and try to reimport). Therefore you can see the error within the import file and make amendments.
Viewing Convertible notes:
Once you have successfully managed to import the file, you can view the notes on Capdesk. Go to the Convertible Notes page (under Ownership) and then click on "view" button to the left of the noteholders name.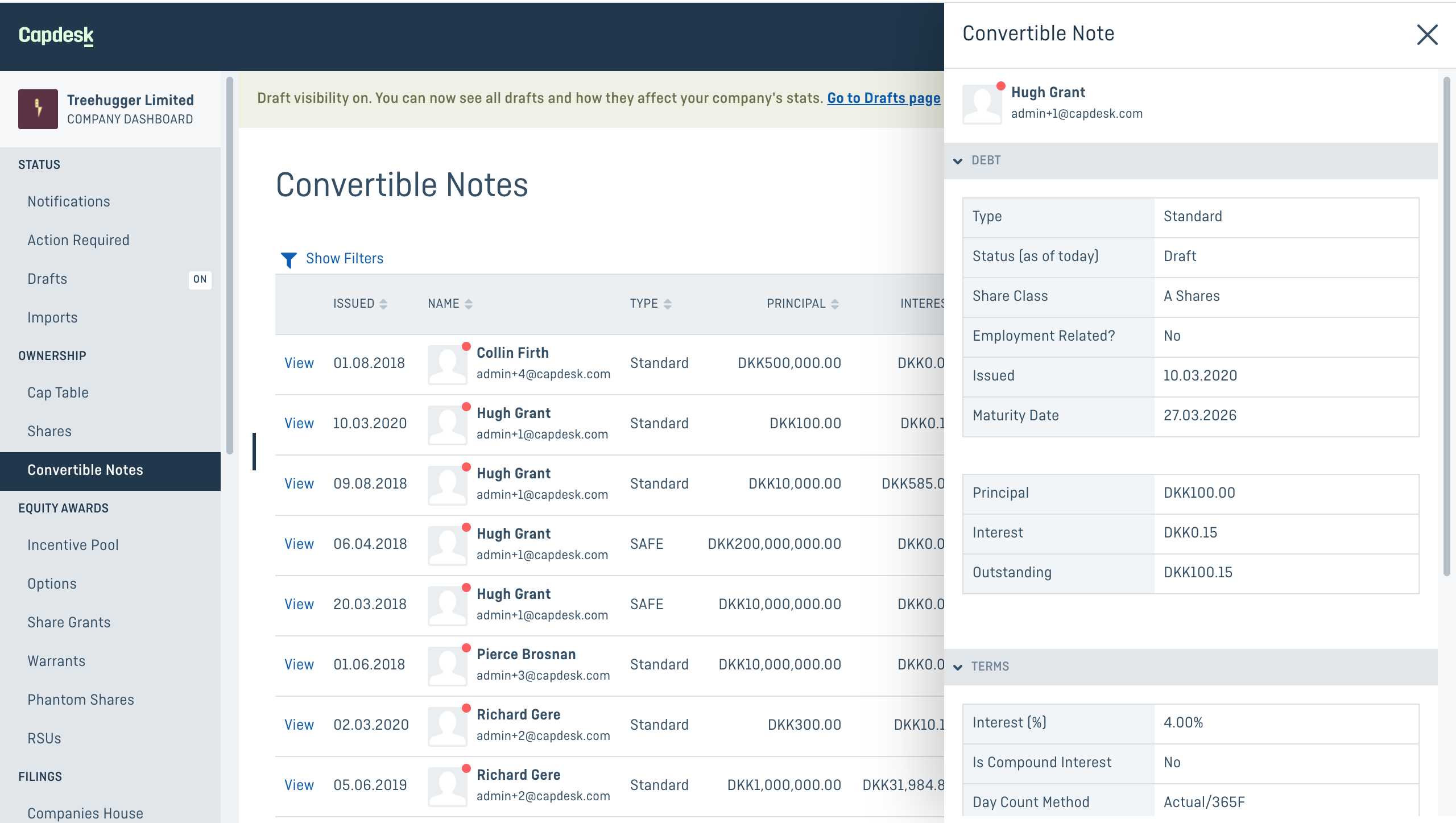 If you are still in draft mode, you can amend and edit details to do with the note, however if you have published the note, you cannot edit the details of the note. To edit the note after you have saved the draft, click on the "..." action button to the right of the screen, a menu will pop up as shown below, click the "edit" button and you can make amendments on the note.