Check the validity of your data and configure relevant settings prior to inviting your stakeholders to the platform
Everything on Capdesk will remain in 'draft' status until you choose to go live and publish the data.
Before going live, you should ensure that you have that the data is correct on Capdesk and that you are happy with your configured settings. We recommend checking the below key areas of the platform before you go live.
Initial Setup - on the left-hand side of your screen, click on Company Setup, under Status.
Share Classes: verify that you have the correct nominal value and votes per share for the share classes. We also recommend checking the total number of shares and share capital. You can view this data by clicking on the Add share class button which will redirect you to the Classes page.
You will also be able to add additional funding rounds and stakeholders by clicking on the options presented on the Company Setup page as shown in the above screenshot.
Validate your data
Review and edit stakeholder access - this option will take you to the User Access page where you can add, edit or remove administrators for your account. You can find more information about this process in this support article.
Test invitation email - going live will publish all your transactions and automatically notify your stakeholders (investors and optionholders if applicable) via email to create an account and view their holdings. This option allows you to check and modify the email template which will be sent to your stakeholders when you make your account live. More information on how you can do this can be found in this step-by-step support article.
If you have also enabled the Equity Awards module and registered equity grants (option grants, warrants) where you have an Incentive Pool, this section will show you if the balance is negative (this happens when you have issued more grants than authorised/ available in your Incentive Pool) as below:
By clicking on Manage incentive pool, you can add any missing authorisations and check your incentive pool data.
Please note your incentive pool balance will need to be positive in order to go live.
Valuations
If you have any previous valuations (e.g. AMV and UMV from HMRC), it is important to input them on Capdesk. You can action this within the 'Shares' page and then the 'Valuations' tab.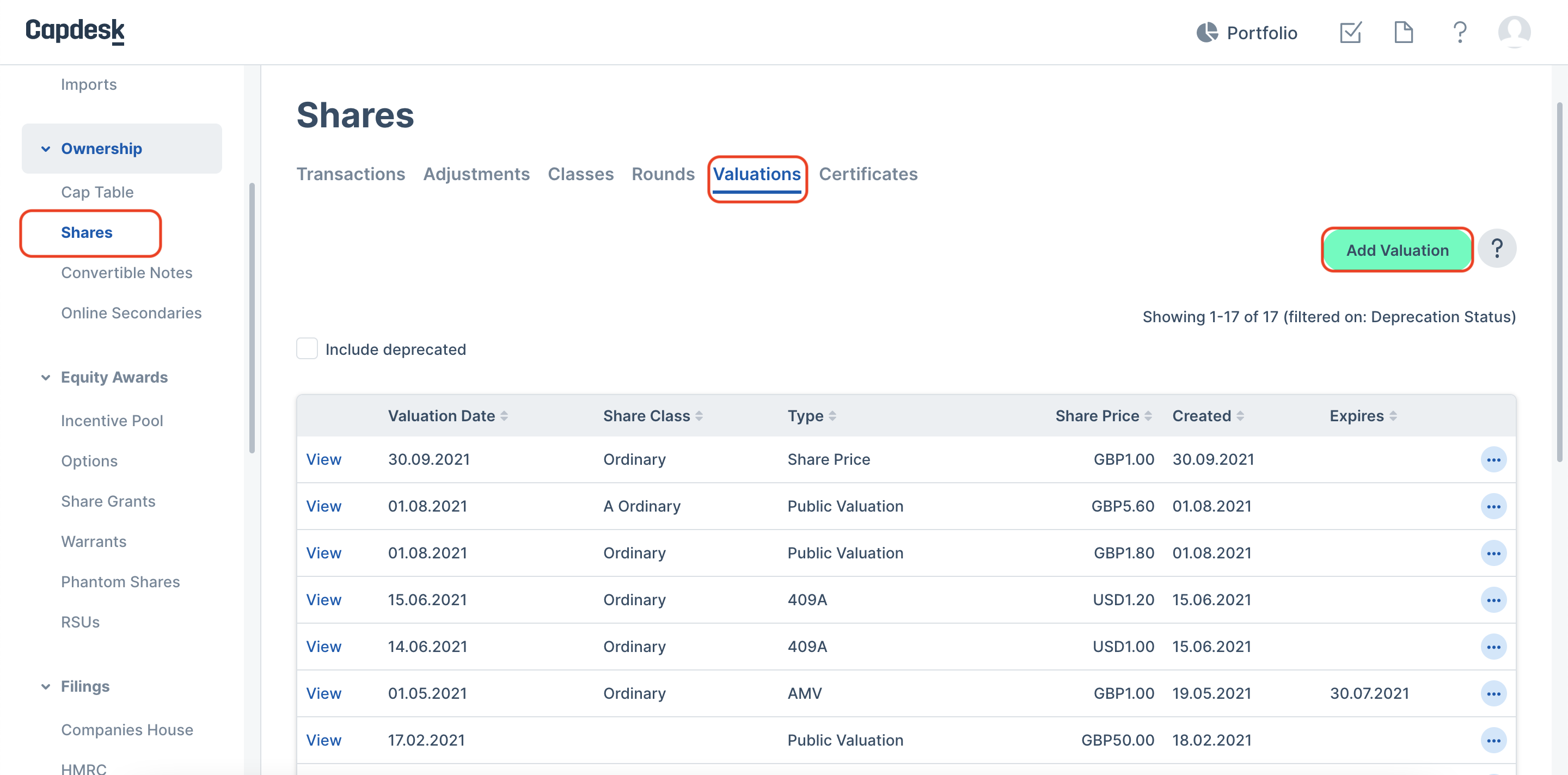 Company Profile
The information within the 'Company Profile' tab will be visible to investors within the 'Company Dashboard' area (e.g. 'Capdesk Demo' in the screenshot). Personalising these sections enhances their visual experience.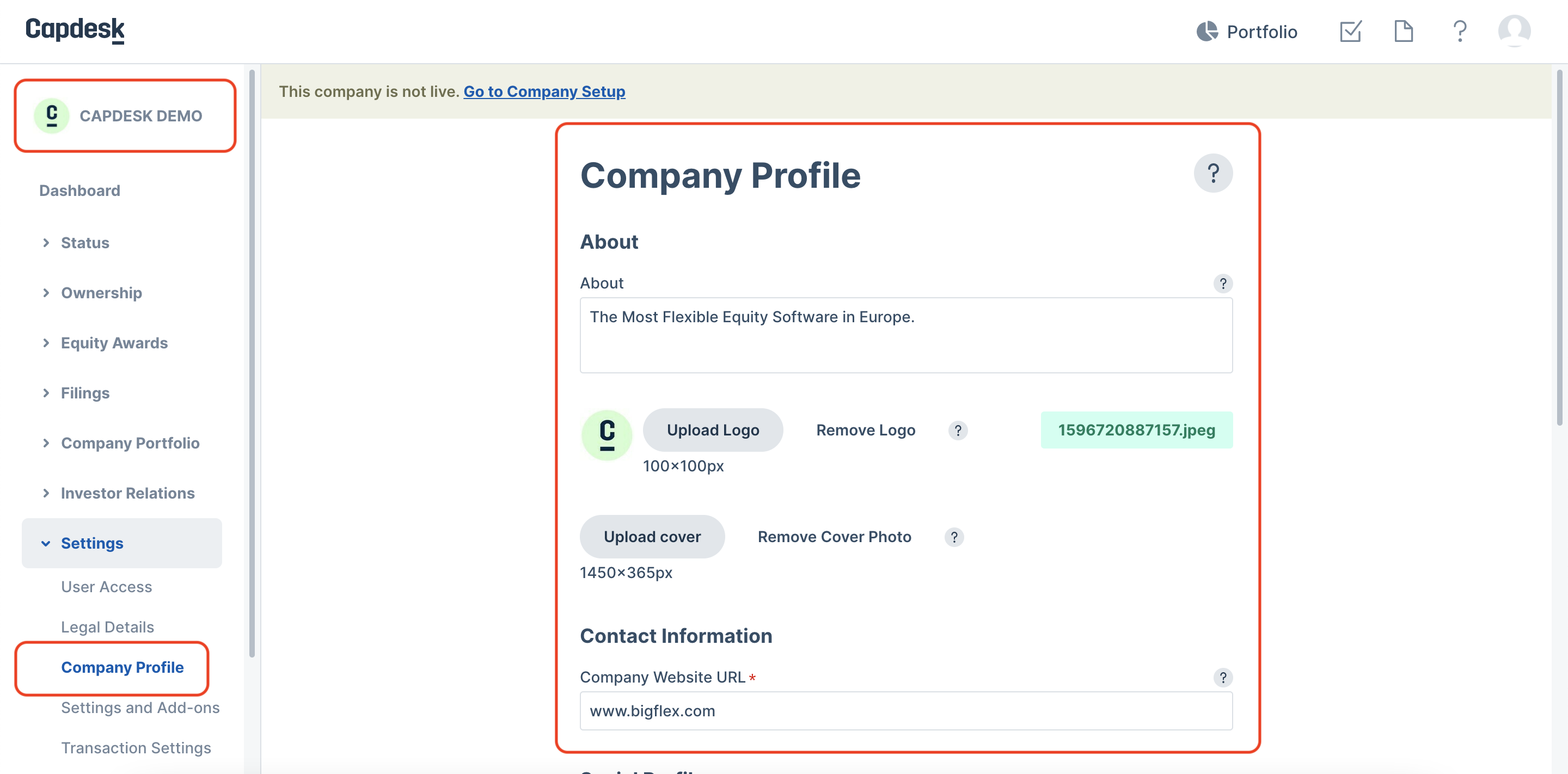 Settings and Add-ons
We recommend evaluating all settings prior to going live but in particular, ones that are located within 'Public Portfolio Settings', 'Privacy' and 'Access'.
If you choose 'Make cap table visible to shareholders' then shareholders will be able to see the full cap table (including all shareholders' details). They can also view the Funding Rounds, Share Classes, News and Documents areas. Switching this setting off will still allow your shareholders to access the company dashboard page but it will not show the cap table.
If you want to increase the privacy of the cap table, you can choose to 'Hide stakeholder emails' or go one step further and 'Make all stakeholders anonymous', this means that investors will only be able to see their own shareholdings in their portfolio and will not be able to access the cap table page (if 'Make cap table visible to shareholders' is unticked).
Hiding emails will mean that shareholders can see the cap table with details of shareholders' shares but their email addresses are hidden.
Making stakeholders anonymous will mean that investors can view the cap table but only see the full details of their own shares. All other shareholders are made anonymous.
Select the 'Investor Relations' drop-down within 'Settings and Add-ons' to amend the 'Enable comments' option. If you post any news updates, activating this setting will prevent investors from commenting on the post.
Please note that the above settings will also apply to optionholders who have exercised their grants.
To check how these settings impact what your shareholders and option holders are able to view on logging in, take a look at this article.
Go live now - publish your data and invite your stakeholders to view their holdings.
After you click the Go live now button, you will be prompted with an overview of the process and you will also need to confirm that you have reviewed the data.
1. Go live is successful - you will see a notification message confirming your company is now live. Invitation emails will be staggered so not all stakeholders will immediately receive an invite.
2. Go live has failed - you will see a notification with an error message as well as a link to the transaction that is causing the issue. Once this is resolved, you can go live again (if you are unable to resolve it, feel free to contact support@capdesk.com for some help).