Prior to enabling the secondaries feature there are a few steps involved, this article will cover those:
If you would like an overview of how the feature works, please read support article here
Before you can use the secondary feature, you will need to verify your identification, company identification and set an approver. The approver will be an administrator with access to approve the secondary transactions.

1. Prepare yourself
2. Prepare your company
3. Document Templates
To begin, go to the "Enable Online Secondaries" button on the Online Secondaries page (left-hand side menu):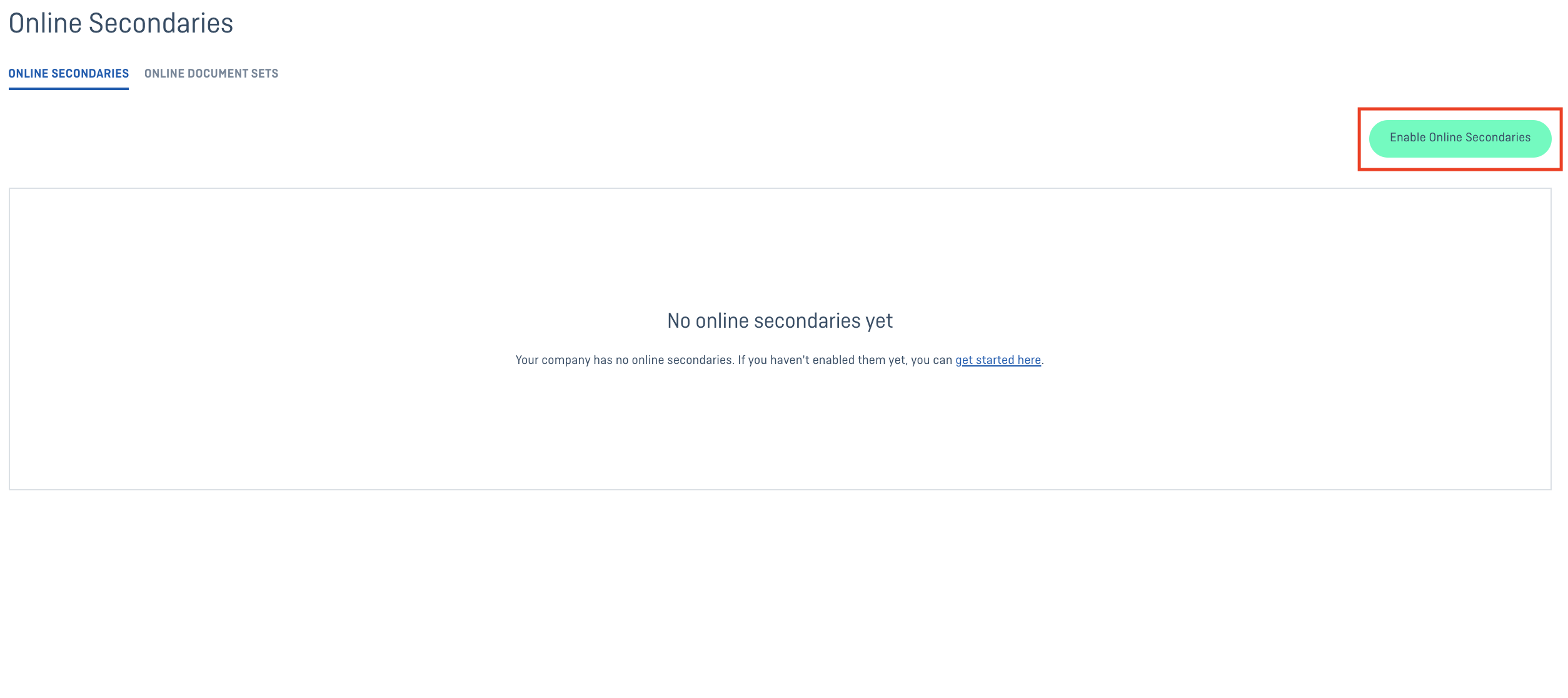 You will need to follow the steps below to enable online secondaries and clicking on the links will guide you to the relevant pages where you can complete these tasks.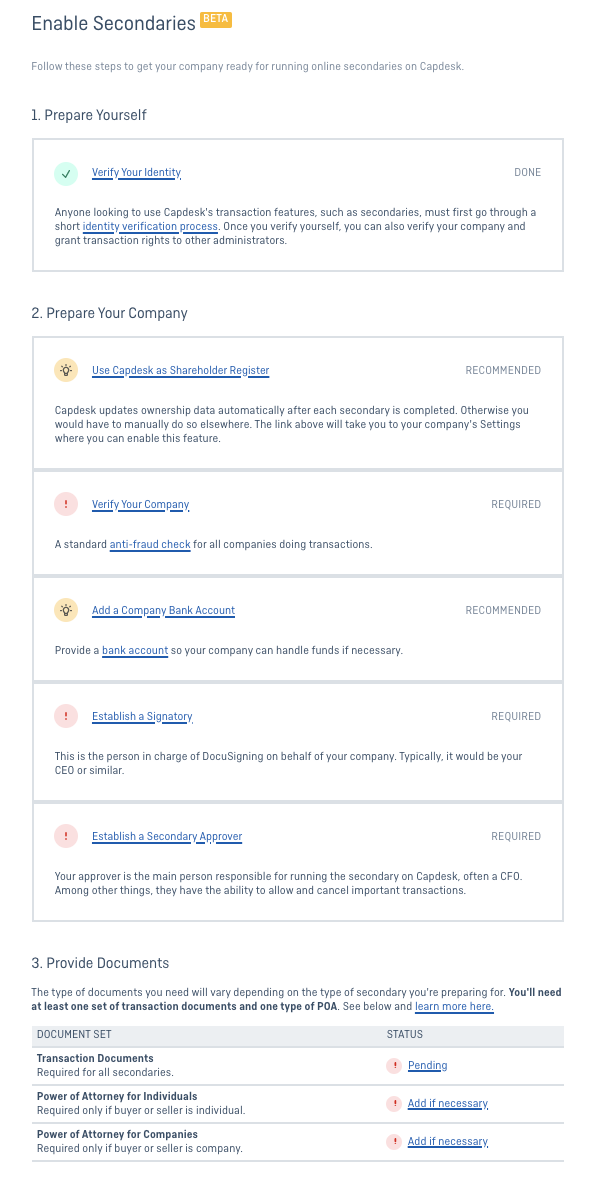 Prepare Yourself:

(a) Verify your identity: For security purposes, we require you to verify your identity. You can find out more information on how to verify your identity here.
(a) Use Capdesk as Shareholder Register: Capdesk allows you to generate a shareholder register, and it is required to enable this on Capdesk. You can enable the shareholder register by going to the Settings and Addons page (on the left hand menu) under Settings, then under the Basic Settings and "Shareholder Register and Certificates", tick "Use Capdesk as shareholder register" and click on Save.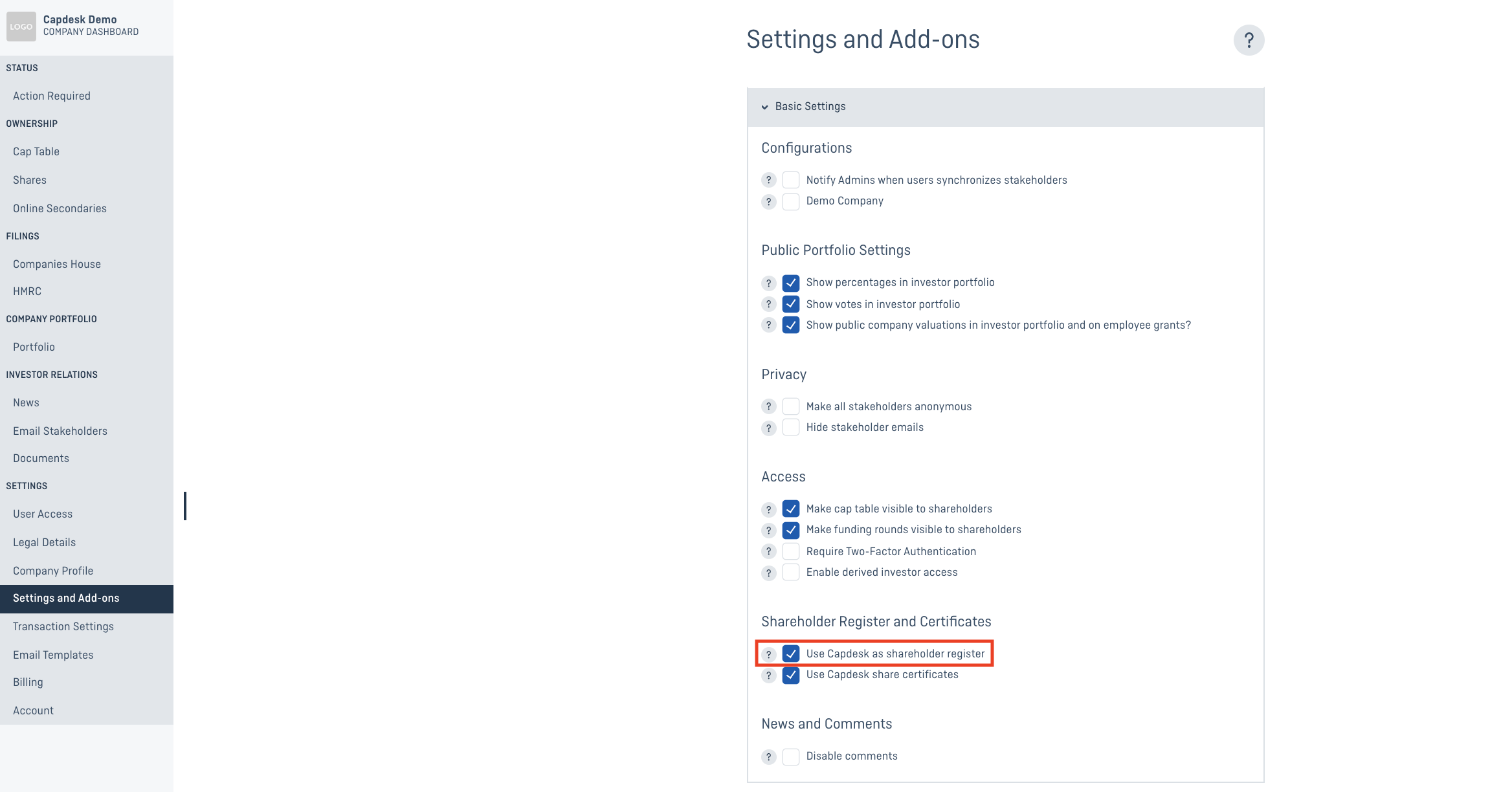 (b) Verify your company: This is needed to undertake a standard anti-fraud check which is necessary for all companies undertaking transactions.
You can find out more information on how to verify your company here.
(c) Add a Company Bank Account: We need the company bank account if there's a cashless exercise involved.
If you go to the "Transactions Settings" page (under Settings on the left hand menu), you will see a green "Add Bank Account" button where you can add a bank account.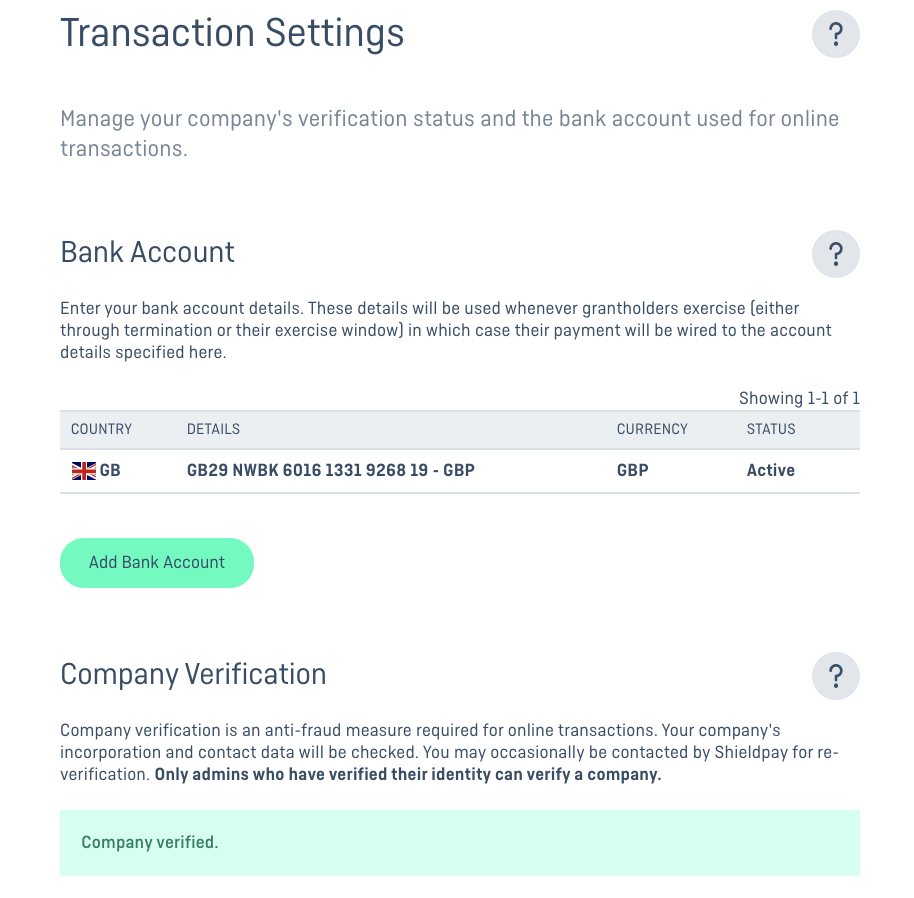 (d) Establish a Signatory: It is required to establish a signatory on behalf of the company for signing documents that are required in the secondary transaction. We require the seller and buyer to sign a power of attorney which gives the company signatory the right to sign on their behalf such as the stock transfer form.
To do this you will need to make them an administrator and give them signing access, you'll find a support article on how to do this here.
(e) Establish a Secondary Approver: You will need to enable an administrator to approve of secondary transactions, similar to giving signing access, under "Approving Secondaries", select "Write".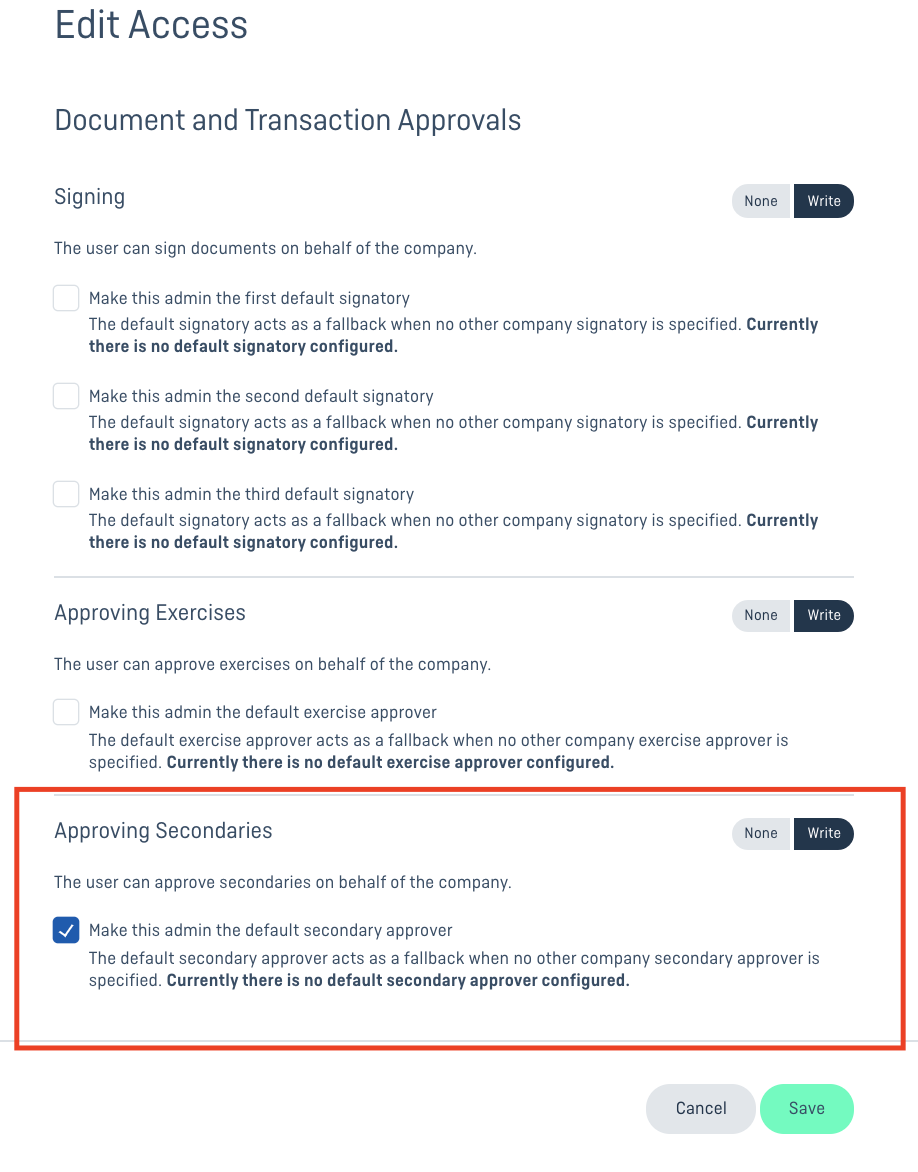 3) Document Templates:
Now that you have verified the identity for both yourself and the company, document templates for the buyer and sellers will need to be uploaded. The document templates include:
A share purchase agreement (SPA) is required for all secondary transactions as it provides the details of the specific transaction i.e how many shares were bought and sold and at what price.
Additionally, a power of attorney (PoA) needs to be uploaded for both the buyer and the seller, we ask for the power of attorney to help streamline the secondaries process. The power of attorney documents will need to be signed by both parties to state that they allow the companies administrator to sign any documents on their behalf.
To upload a template, you will need to click on "Online Document Sets" and click "Add Document Set".
You will then need to select the type of document you are going to upload. These being Power of Attorney (PoA) for individuals and corporations or a transaction template (e.g. Share Purchase Agreement (SPA)).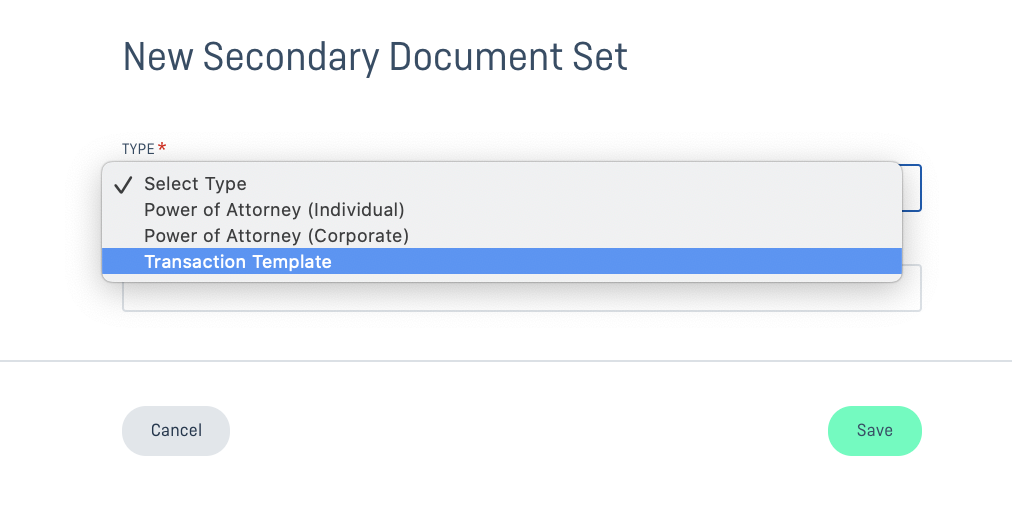 If you choose a Power of Attorney (PoA) template, you'll be given a selection of dynamic documents that you will need to add, these being the Power of Attorney for the buyer and seller.
These will need to include Capdesk placeholders so that the relevant information will be automatically filled. The required placeholders are set out by clicking on "View Available Placeholders". Please get in contact if you require help populating your Power of Attorney (PoA) or Share Purchase Agreement (SPA) with placeholders.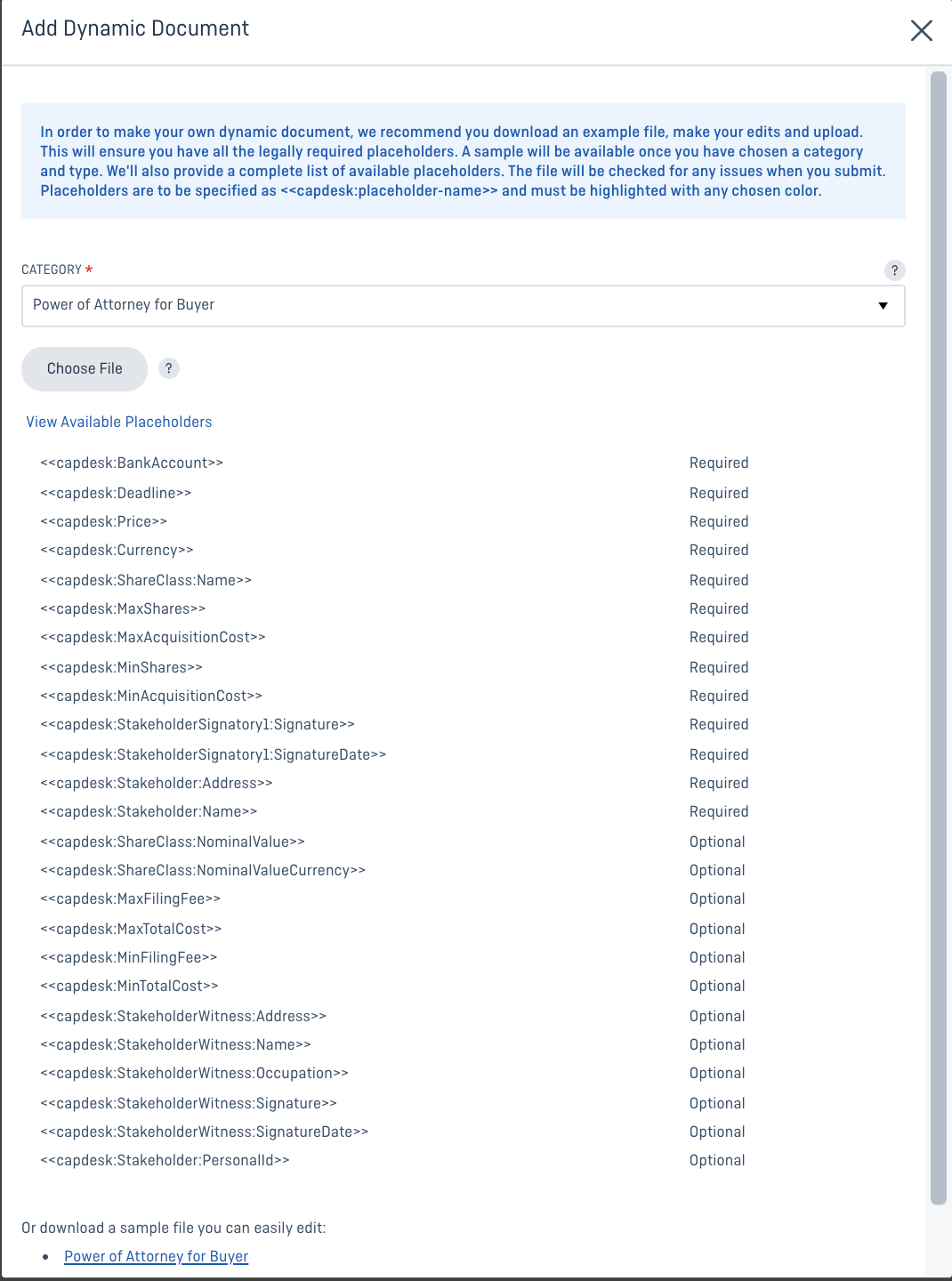 Once these documents are uploaded and saved, they will appear on the "Online Document Sets" page.



You will then need to add a share purchase agreement, and you can do this by selecting the document type "Transaction Template". Similarly, you will need to include Capdesk placeholders in the agreement.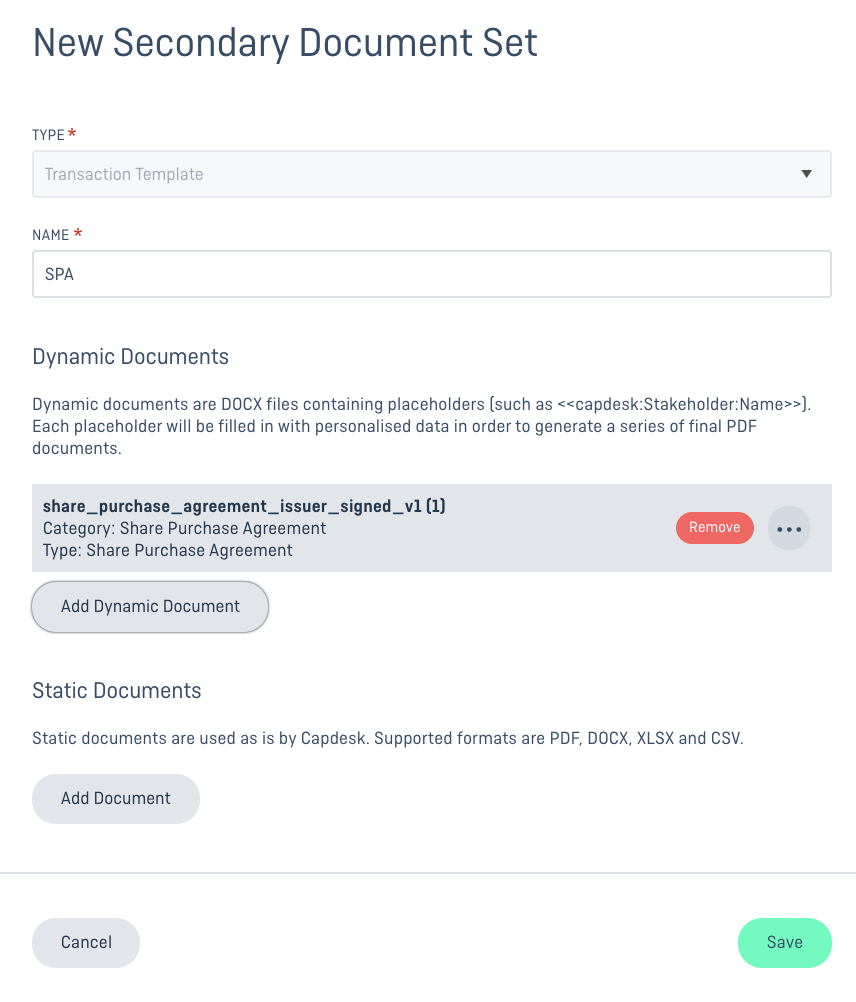 After you have completed the steps set out above, the "Add Online Secondaries" button will appear and you can now set up a secondary transaction. You can find out more information here.