This support article will guide you on how to set up the SBP report, including the inputs you need to enter before you can export the SBP report.
Please note:
The report is available for option grants, warrants, RSUs and share grants
We currently do not include any vesting tranches without dates in this report. Any grant with performance conditions might have vesting tranches without dates and these tranches are currently not included.
The SBP report is designed to account for a companies liabilities which have occurred due to promised equity such as options, this is needed when preparing financial statements. It calculates these liabilities using the fair value and share price.

Before you can export the report, you will need to add the share price and fair value valuations.
You can do this by clicking on the "Shares" page then clicking on the "Valuations" tab and clicking "Add Valuations". If you would like more information about adding these valuations, please read here.

In addition to the valuations, you will also need to ensure you have added the terms and conditions for each option grant, this can be done by editing the option grant. Go to the Options page (under Equity Awards) -> action button (3 dots on the far right side) -> Edit.

If the option grant is still in draft, you can find the terms and conditions field under the "Advanced" dropdown. If it's published then it will be viewable without having to click on a dropdown.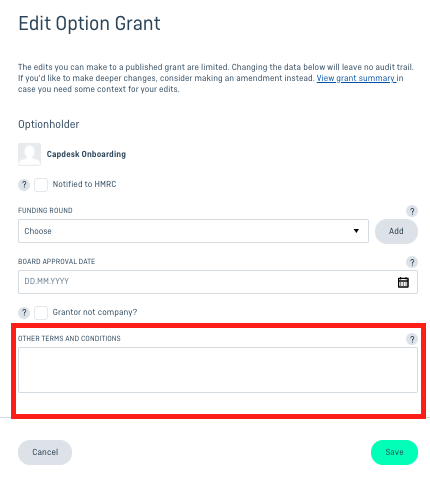 You also need to add the terms and conditions to the options plan, this can be done by clicking on the Options page ->Plans and the action button by the plan -> Edit.

You can find the terms and conditions field under the "Advanced" dropdown.
Once these parameters have been entered, you can order one of our three SBP reports. On the "Options" page and clicking on the "Export" button and selecting "Share-Based Payments".

We support three different expense calculation methods these being Graded, Ratable and Straight line.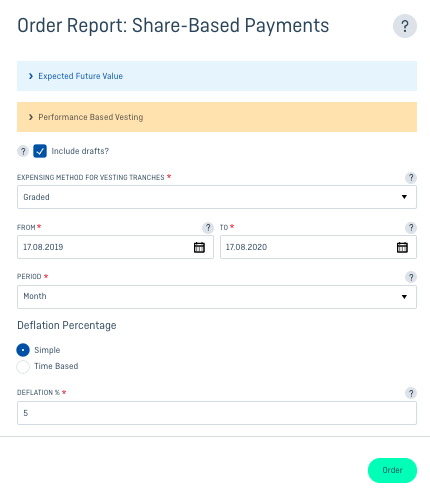 On this page you can select the expensing method you need, the period of time the vesting takes place and the rate of deflation for more information about these inputs click here.
Click "Order" and the SBP will be sent to your inbox for you to download.


N.B The complete report is supported for excel in English (any other language will affect the the report)