Explanation of how to upload EIS AA (advance assurance), EIS1 (compliance statement) and generate and sign EIS3 certificates
Creating EIS3 certificates can often be the longest and most arduous step in securing the EIS tax relief for your investors, as you normally have to fill out and sign every individual investor's certificate and mail it to them. With Capdesk, you can populate and share EIS3 certificates among your investors digitally instead.
Please note, Capdesk does not handle the EIS Advance Assurance or EIS1 on your behalf. You will need to ensure these filings are generated outside of the platform.
Using this feature requires DocuSign for the electronic signatures. By default, it will be our DocuSign account and this will cost you £2.50 per document to cover the cost of signing. However, we allow you to log in to your own DocuSign account so there is no additional cost for you.
To begin populating EIS3 certificates, you'll need to first complete the following steps:
1. Upload EIS Advance Assurance
Navigate to the HMRC filings page found in the left-hand menu, and select 'EIS Advance Assurance' from the dropdown menu, as seen below:


From here, upload your EIS AA by selecting 'Add Document' and then 'Create EIS AA Filing'.
Once you have uploaded the EIS AA, you can mark it as filed by selecting the '...' action button as seen below: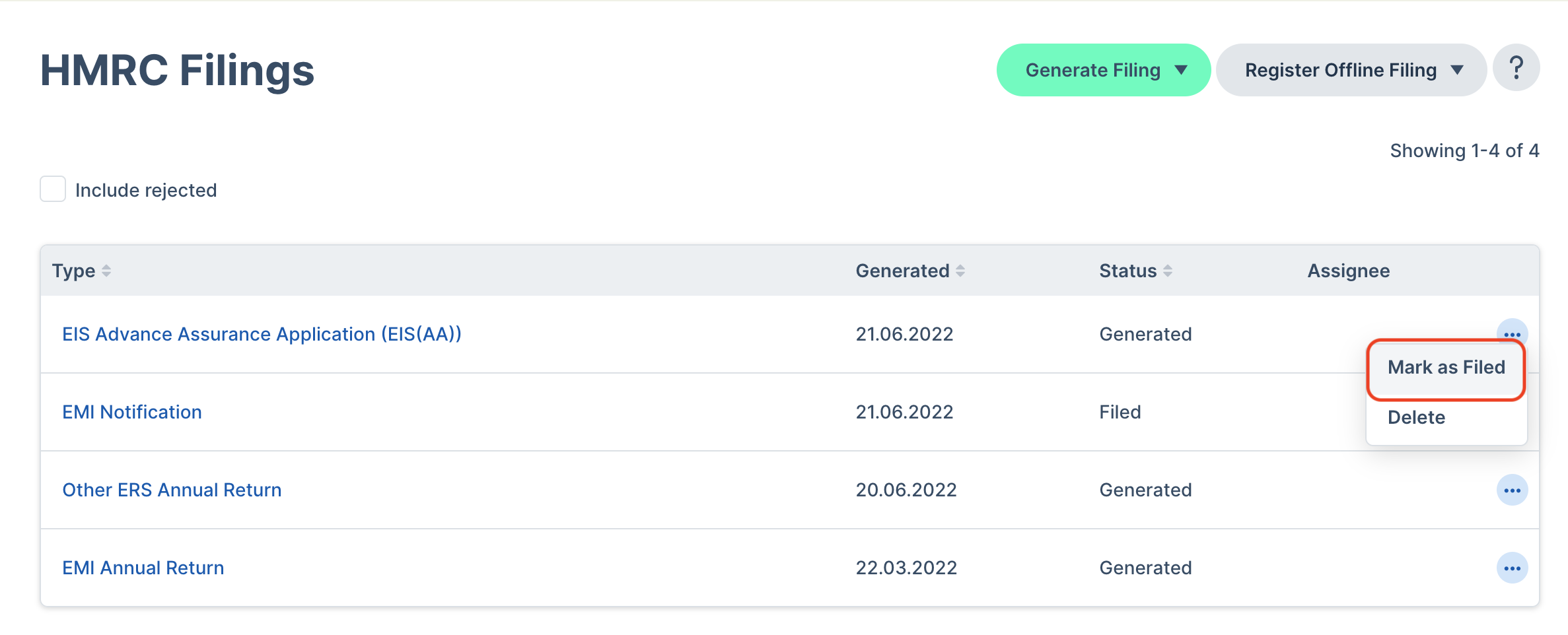 Assign a date to your filing and mark it as filed.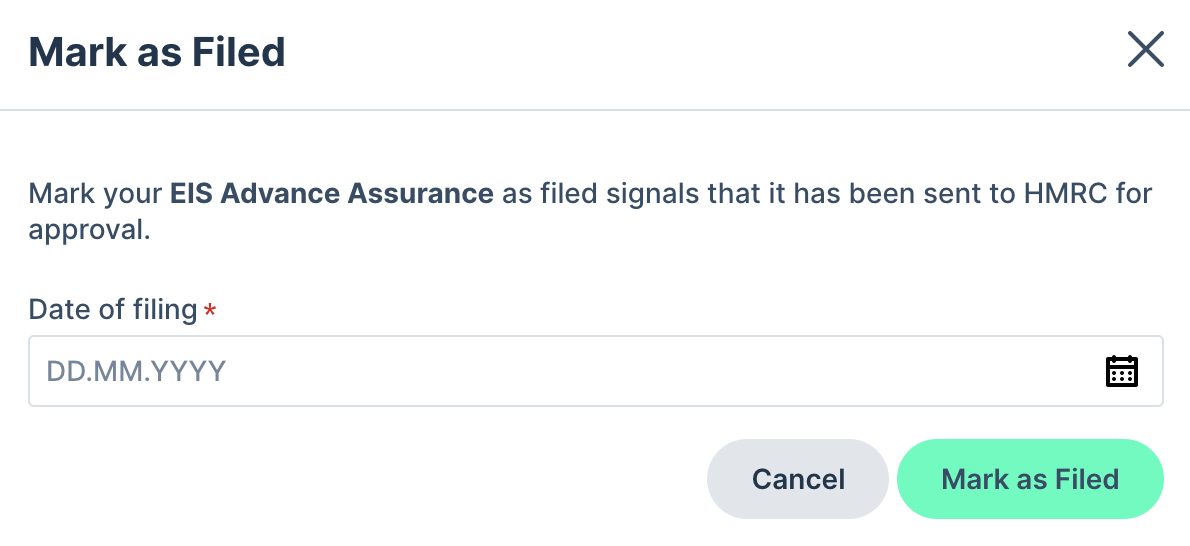 Once HMRC has returned feedback on your AA, you have the option to mark it as approved or rejected, accordingly:
Selecting the approved option will prompt you to enter the date of approval and upload the approval documentation: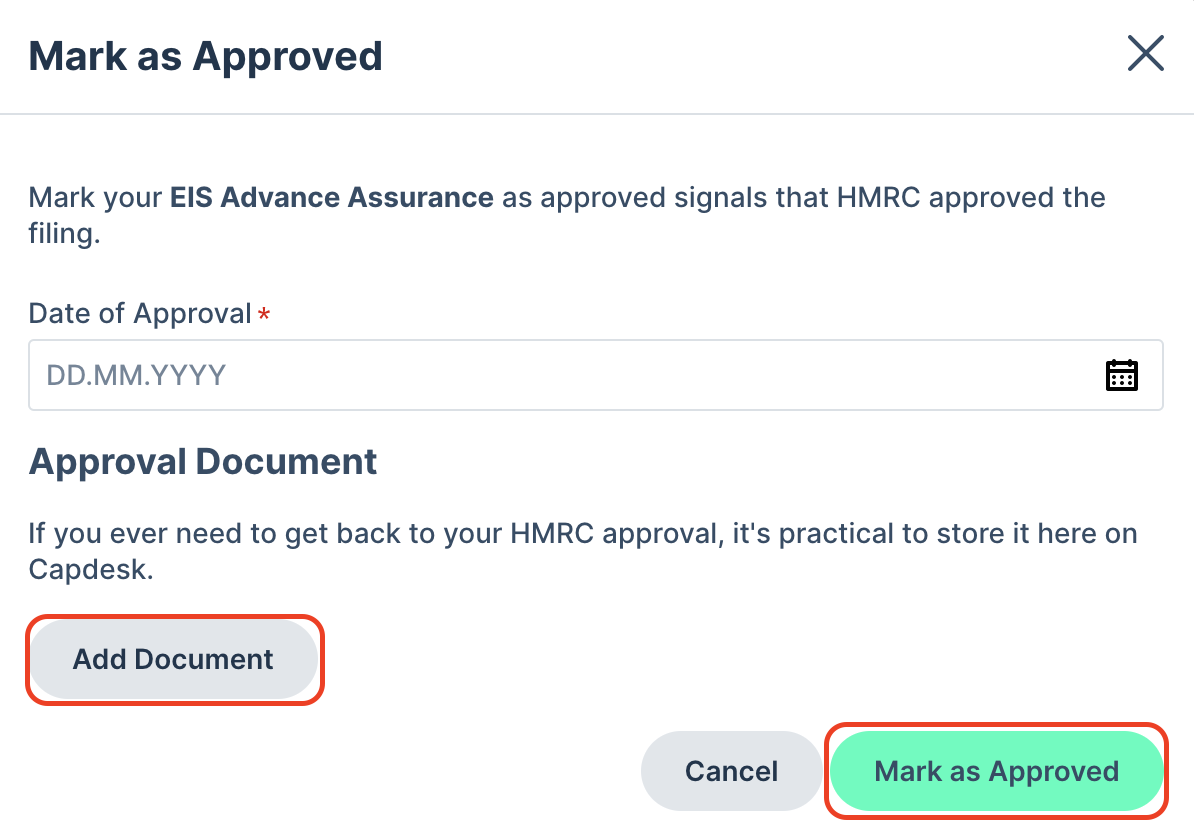 Your document will now be logged as approved and you can proceed to upload your EIS Compliance Statement.
2. Upload your EIS1
To begin, select the 'EIS Compliance Statement' option from the drop-down menu:
Click 'Add Document' to upload the Compliance Statement and then proceed to select which Advance Assurance the document is related to.
You then have the option to select either all non-filed EIS share issuances or select a date range to choose a selected group of issuances. Once selected, click the green 'Upload EIS1 filing' to save.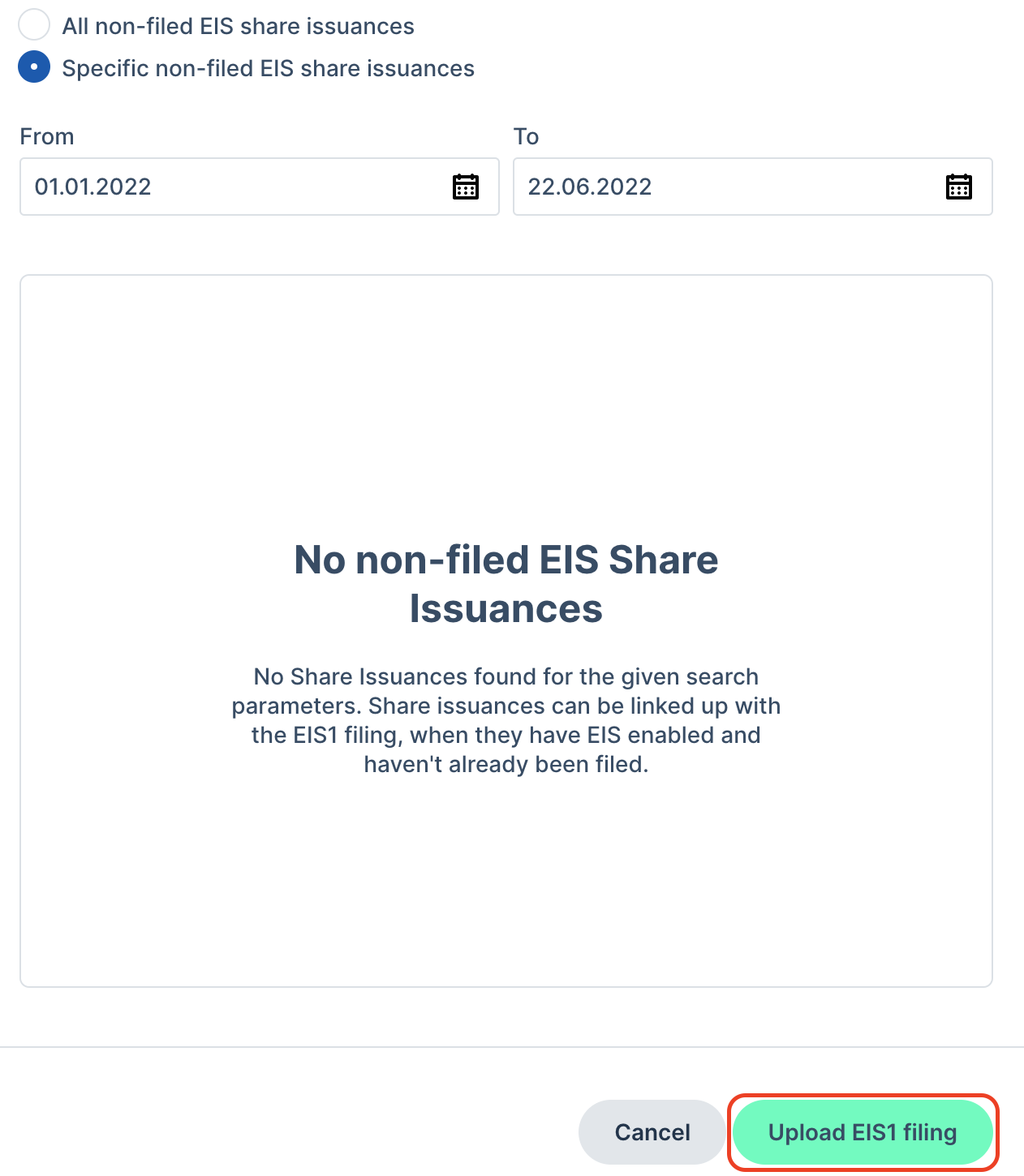 After recording the EIS1, you'll find it generated under your 'HMRC Filings' tab. You can then repeat the steps from above to mark the EIS1 as filed and then approved or rejected.
If marking as approved you will need to enter the date of approval and unique investment reference and upload the EIS2 you received from HMRC.
You can now generate your EIS3 Certificates using Capdesk.
3. Generate and sign EIS3 certificates

To begin, simply click the '...' button to the right of the EIS2 filing you have just saved. You will then need to select 'Sign EIS3'.
The below window will pop up. Select 'Okay' and Capdesk will begin generating the EIS3 certificates automatically.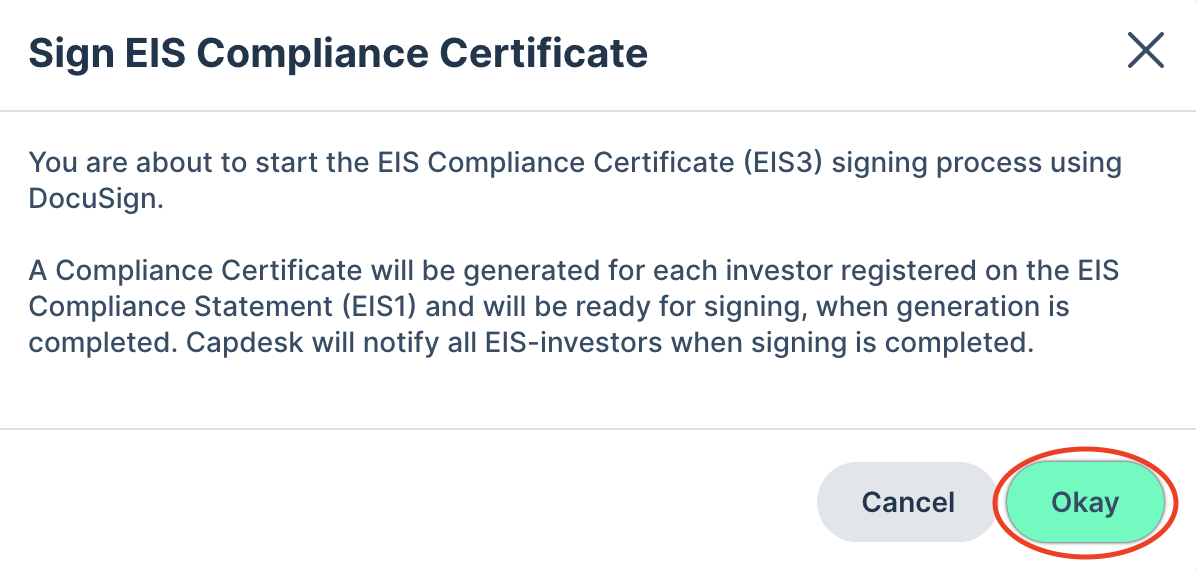 Next, navigate to the 'Tasks' section of your account and select 'Review and Sign' to sign the EIS claim for your investors' tax relief.
You will then be redirected to DocuSign to sign the form electronically. It will look similar to the below: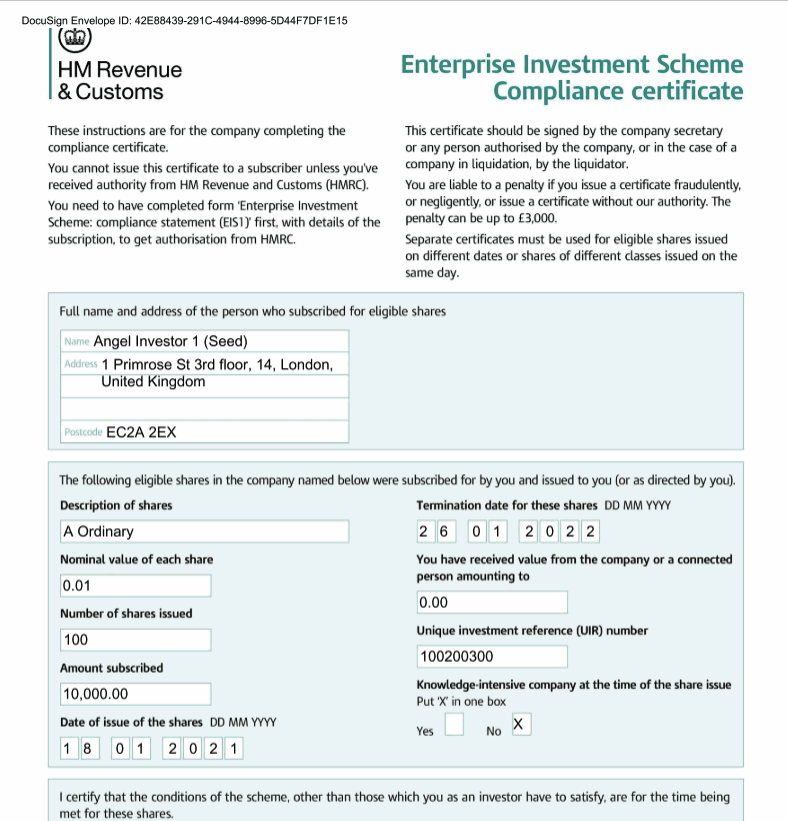 Once signed, your EIS3 will be published under the relevant transaction and your investors will receive an email telling them that the signed EIS3 is now ready for them to download from Capdesk. The signed EIS3 will remain available on Capdesk for both your investor and your company to access at any time under the share issuance transaction it is linked to.
For further reading on EIS, you may find our EIS blog post interesting.