Detailing how to sign in to your account through various email addresses as well as bringing various investment information together.
By default, you are able to log in or sign up to Capdesk with your registered email address. Once logged in, you can associate multiple email addresses with your account. Once an email is associated with your account, you can:
Log in with this email
Receive news updates and other information pertaining to your investment.
You can remove extra emails from your account again, as long as you still have at least one email present (your primary email). The primary email is the email where you'll receive stakeholder information from the companies you are linked to.
Please note investments will only show in your portfolio

if the email address the company used for registering your investment on Capdesk is associated to your account.

You can add a different email and make it your primary email

as long as you still keep the initial email address on the account

, otherwise your investments won't be linked and visible in your account.
If you need to change your registered email address, please contact the company.

How to add an email address

Click the icon of a person in the top right corner of the page. Then, select 'Capdesk Account'.


Scroll to the 'Emails' section. Here you will find your primary email address (the email address used to initially log into your account.

Type the new email address under 'Add email' and then click the green 'Add email' button.
Once clicked, you will be notified that Capdesk has sent a verification email to the new address. The verification link will be valid for 7 days.
Locate this email in your inbox and click the green 'Verify Email' button.
Once verified, you will see that the additional email has changed from unverified to a blue link. Now, you have the option to delete the email or make it the primary email.
If made primary, this is the email address that will receive all relevant Capdesk emails.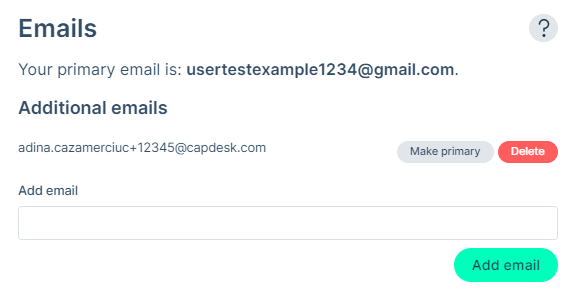 You can now repeat this process for multiple email addresses.