Accessing your portfolio, company dashboard and account settings
After signing up to Capdesk, you can track your registered holdings. The information below is intended to explain some of the account properties and help you populate information in the account settings. We will be exploring the following sections:
Portfolio page
Your portfolio will show you the company you have received the email invitation from with equity issued to you. In this section, you will be able to see any companies on Capdesk that has recorded equity issued to you in your portfolio.

You can see a singular line of information, this details your holdings on a consolidated basis.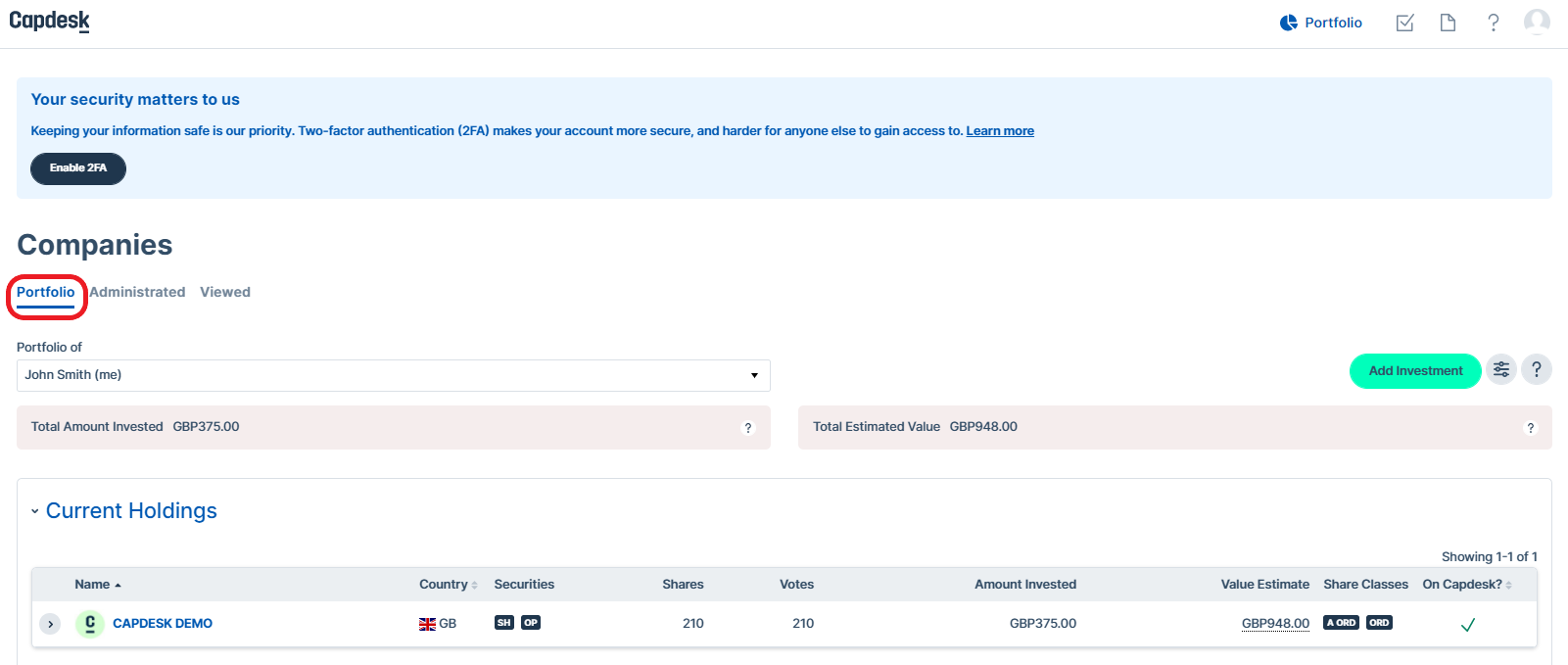 By clicking on the drop-down arrow on the left-hand side, you are able to view the break-down of these holdings by each type of security i.e by each share class, grants etc.
View shareholdings
By clicking on a share class, you are able to view the transaction history within that class. This could consist of any issuances, transfers, cancellations or conversions.


Click on the "Type" i.e. 'Issuance' and this will give you more information regarding the transaction. You can also find any relevant documents (if applicable) in the 'Documents' section.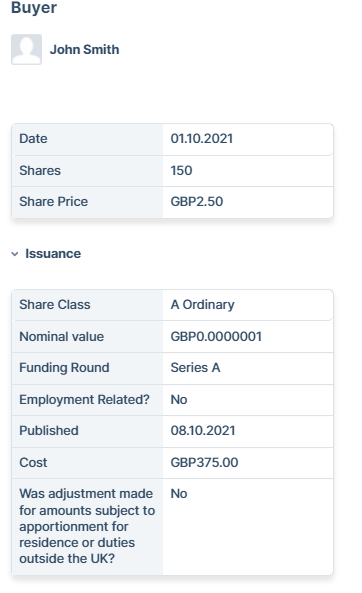 Viewing a grant
Click on a grant and a right-side panel will display the details of the grant.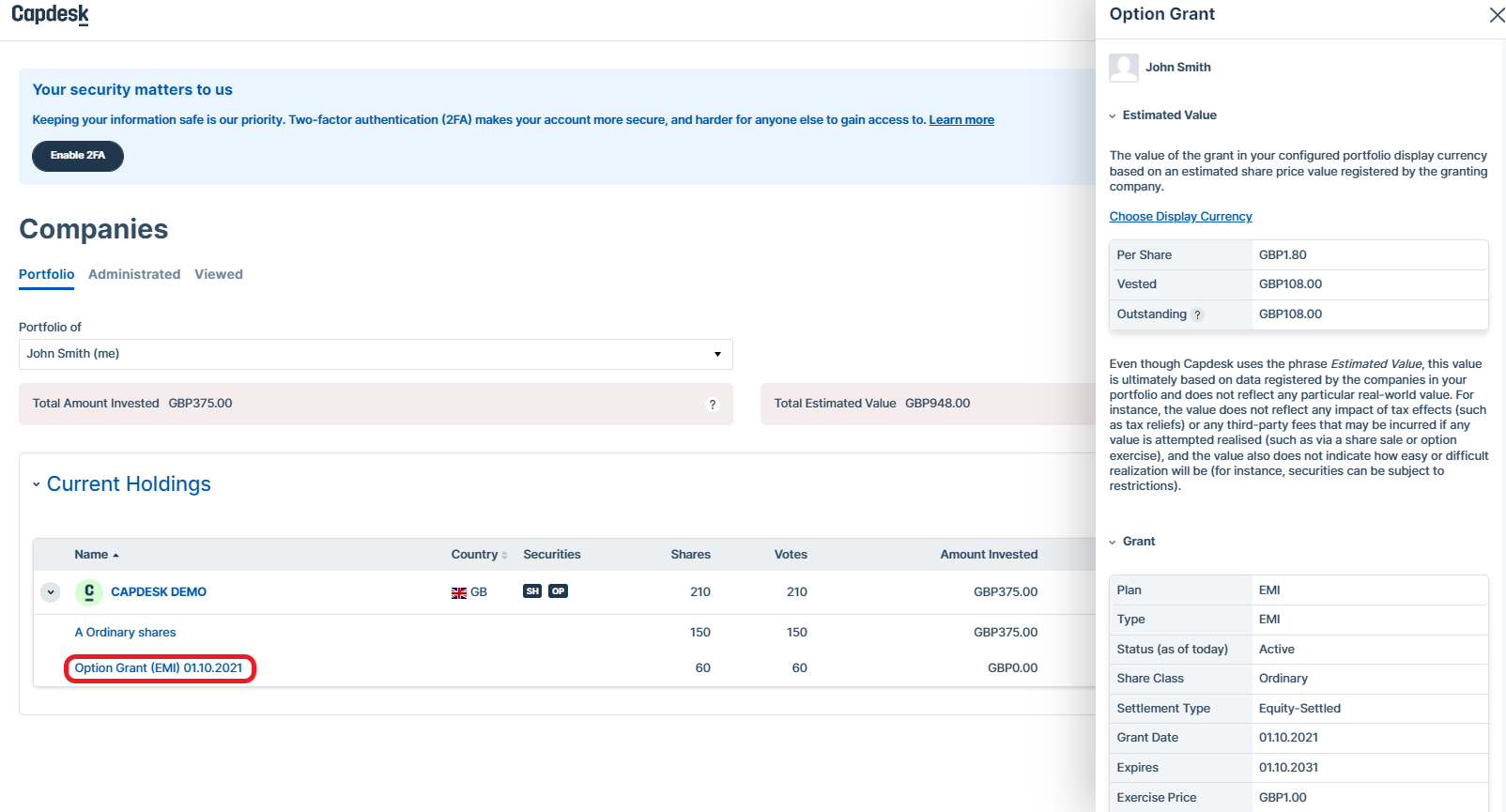 The following information is shown:
Estimated Value: The value of the grant in your configured portfolio display currency based on an estimated share price value registered by the granting company (if applicable).
Grant: These are details of the grant including exercise price and grant/expiry dates.
Vesting: This section describes your vesting schedule and shows you how many options have currently vested and how many you have left to vest.
Valuations: Any valuations relevant to your grant that the company has recorded on Capdesk will be displayed here.
Grant Note: Any notes added by the company will be shown here.
Grant Document: Any documents uploaded by the company relevant to the grant will be found here, if you have signed a grant online, this is where you could find your signed copy of the agreement.
Transactions: Here you can see a list of any and all transactions that have been actioned on the grant, including exercises, share splits and lapses.


The company dashboard
As a shareholder, you are able to access the company dashboard (depending on the accessibility the company allows) which provides further information about your investment as well as the company.
This is not applicable for optionholders or any other equity holders.
You can access the company dashboard by clicking on the company name that (highlighted in blue) in your portfolio.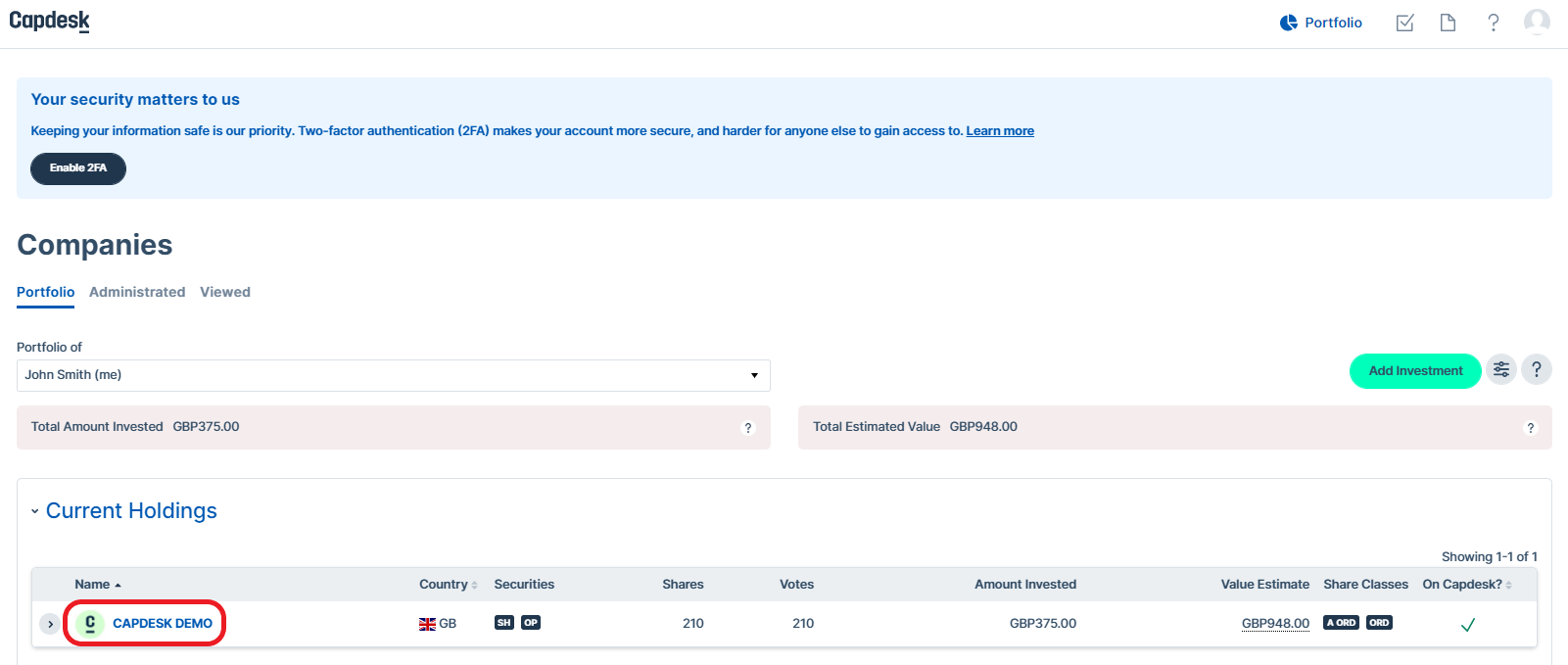 The company's settings that are set by the company administrator(s) dictate how much access you have on this page. As a minimum, you are able to view:
Company dashboard: Here you can view your personal investments as well as the company background.
Shares (under Ownership): Details of all share classes in the company.
Portfolio (under Ownership): To track investments that the company has made.
News (under Investor Relations): This is where you are able to find any news updates.
Documents (under Investor Relations): To find any relevant documents e.g shareholder resolution.


If the company settings permit this, then you are able to see the company cap table. This can be in a form whereby shareholder details are anonymised or they are not.
Administrated and Viewed page
The administrated tab is for those who are managing Capdesk accounts. This means that the page is used on a company level and it not applicable for those who are solely investors/equity-holders.




If a company administrator has added you as a viewer then it means that you are able to access the account with similar viewership to an administrator but you are not able to edit any data i.e you will be able to view the cap table but you would not be able to issue any investments.
Account settings
There are 4 icons in the top right-hand corner, from left to right:

Tasks: If you are required to sign anything, you'll find those requests here.
Documents: If you have any documents attached by the company to your transactions, you are able to find them here.
Support: You can submit a support ticket, access our help centre or refer a friend to Capdesk.

Personal: This allows you to make updates on your account including updating personal information:
Legal Identity: Update personal details such as address and phone number.
About You: Update information about yourself like adding a picture or adding your social media links.
Capdesk Account: Change your password and add secondary emails.
Preferences: Configure your personal preferences.